Mitsubishi Outlander PHEV Concept-S unveiled
Sporty Outlander PHEV Concept-S plug-in SUV has been revealed at the Paris Motor Show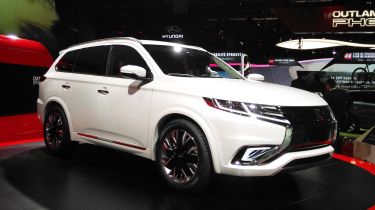 The Mitsubishi Outlander PHEV Concept-S has been revealed at the Paris Motor Show, previewing a sportier version of the regular Outlander PHEV 4x4. It looks bolder, with a redesigned front end, and features an updated interior with new materials and luxurious features.
The new PHEV Concept-S looks set to give the standard plug-in SUV added appeal when compared to arguably more desirable rivals such as the BMW i3 and Vauxhall Ampera. The standard car is the world's first plug-in SUV, giving an all-electric range of more than 30 miles.
As you can see from these photos, which come direct from Mitsubishi's show stand in Paris, the Concept-S gets new wraparound headlights and a refreshed bumper design that improves the subdued looks of the standard car. A Platinum White paint finish completes the concept car's exterior style.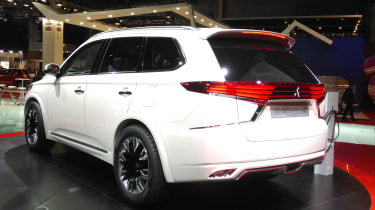 Mitsubishi has also worked to improve the PHEV's cabin, and the Concept-S gets black wood-grain trim with silver accents, black lacquer and hand-stitched leather seats. It adds a much-needed luxury feel, although there's none of the innovation you'll find in the BMW i3 and the regular model's fiddly sat-nav system remains.
Although the regular PHEV looks a bit boring, that hasn't put people off buying it, and the Mitsubishi Outlander is now the country's best-selling plug-in hybrid. The Concept-S gets the same hi-tech drivetrain as the standard car, allowing it to travel more than 30 miles on battery power alone. It can also return fuel economy of 148mpg and CO2 emissions of 44g/km, for free road tax and exemption from the London Congestion Charge.
Although Mitsubishi has yet to confirm whether the Concept-S will go into production, if it's well recieved by the public, we expect it to be confirmed soon after the Paris Motor Show. Read our full preview to find out what other new models have been unveiled at the show.
For more information on the current Mitsubishi range, visit the Carbuyer Mitsubishi reviews page.