Tesla Model S gets four-wheel drive
Tesla has announced a four-wheel-drive version of its Model S electric saloon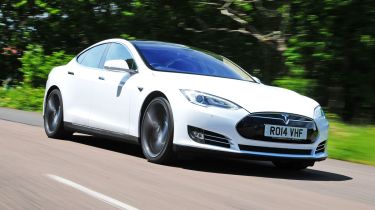 The new Tesla Model D has been revealed at a glitzy launch party in the US, confirming rumours that CEO Elon Musk was planning a four-wheel-drive version of the all-electric Model S saloon.
The new car will still be badged as a Model S, but with a D added to the name. That means the four-wheel-drive version of the Tesla Model S 60 kWh will be called the 60D, with the more powerful 85 kWh version badged the 85D and the high-performance, range-topping model taking the P85D name.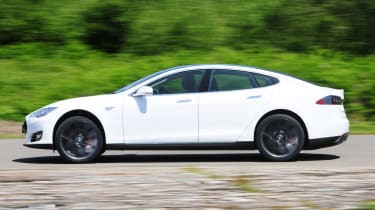 However, it's not as simple as adding four-wheel drive and a D on the bootlid. Tesla engineers have improved the cars' technology, to make each model faster and – in some cases – more economical than before.
The basic Tesla Model S 60D is two tenths of a second faster from 0-62mph, cutting the time to just 5.7 seconds. The same is true of the 85D, which now does it in 5.2 seconds. However, it's the high-power P85D that really impresses, slashing a full second off the standard car's 0-62mph time. It does the sprint in just 3.2 seconds, which Tesla says makes it "the fastest-accelerating production four-door car ever."
60D & 85D: all wheel traction, optimized for efficiency. P85D: the fastest accelerating production 4-door car ever. pic.twitter.com/zCt5UeVLIC

— Tesla Motors (@TeslaMotors) October 10, 2014
On all but the most powerful model, the car's range has improved, too. The 60D can now do 225 miles (compared to 215 miles) between charges, while the 85D will do 295 miles (compared to 285 miles). The P85D's range has been reduced by 10 miles to 275 miles, but when you consider the performance on offer, it doesn't seem like much of a compromise.
In other Tesla news, Elon Musk revealed some clever autonomous driving technology, called Autopilot, which will be fitted to every new Tesla produced from now on.
Tesla says cars fitted with the system will be able to park themselves with no driver intervention, as well as drive themselves up to where you're waiting, just like a valet would. Tesla bosses stressed that this feature was only for use on private property, and not outside the local casino, hotel or golf club.
The advanced system, which uses GPS and sonar, effectively allows the Model S to drive itself, but Musk insisted that the safety regulations to permit this on public roads were not yet in place.
For more information on the Tesla Model S saloon, take a look at the Carbuyer Tesla reviews page.