Lexus recalls 10,000 cars in the UK
Several different models affected by faulty fuel delivery pipes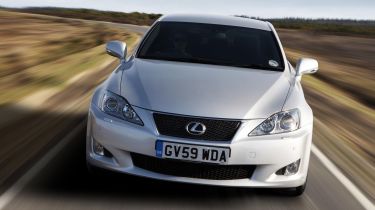 Faulty fuel delivery pipes in some Lexus IS, GS and LS models have led the Japanese manufacturer to recall almost 10,000 cars in the UK.
Although the problem could lead to a fuel leak, Lexus has moved to reassure owners by stressing that all the cars affected are still safe to drive.
Models affected are the IS 250, IS 250 C, IS F, GS 300, GS 460, GS 450h, LS 600h, LS 600hL and LS 460, built between January 2005 and September 2010. Owners of the CT200h will be happy to read that their cars are not part of the recall.
The measure taken by Lexus in the UK is part of a global recall that includes approximately 759,000 vehicles. There haven't been any accidents due to the fault; Lexus discovered the problem through its worldwide field report quality checks.
Lexus will contact affected owners and ask that their cars are taken to their nearest Lexus dealers, where work to fix the problem will take between three and four hours.
If you want to find out straightaway, Lexus also has a registration look-up function in the owners section of their website.
The latest recall within the motoring industry comes hot on the heels of recalls issued by Mercedes and Vauxhall relating to some new C-Class models and some Corsa and Adam models respectively.