Last chance to buy: Vauxhall Corsa
New Vauxhall Corsa model means outgoing version is on sale with big discounts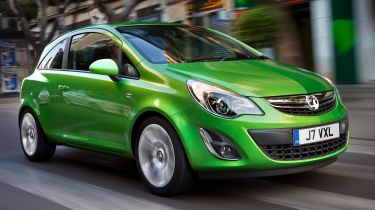 The Vauxhall Corsa is one of the best-selling cars in Britain and that looks set to continue with the introduction of the new and improved model, which is now available to order.
The launch of the new car does mean that the outgoing model is at the end of its production run and dealers will be keen to shift old stock, even if it means offering cars at a big discount.
There's a bewildering number of Corsa trim levels, and choosing the right one means deciding on what mixture of style, equipment and power you want – and, of course, the price you want to pay.
As a general rule, we'd recommend the 1.4-litre petrol and 1.7-litre diesel engines, as some of the smaller engines feel rather gutless.
If you don't have quite enough cash for the brand-new Corsa, or you just like the idea of getting a bargain, a special deal on the outgoing third-generation model could be the perfect choice.
Why should I buy it?
The outgoing Corsa isn't as much fun to drive as a Ford Fiesta or as desirable as a Volkswagen Polo, but it's a practical car with a large boot that performs well around town, which is where most owners will use it.
The five-door version of the car improves practicality, with slightly more boot space and better headroom for passengers sitting in the back.
The car has long been a favourite of newly qualified drivers because of its compact dimensions, low insurance group and popularity with driving schools, but thanks to the range of trim levels available, there's a Corsa for everyone – from boy racers to grandmothers.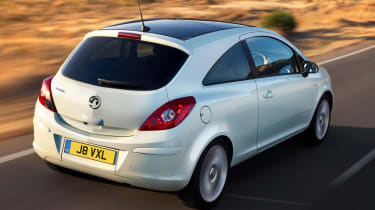 How much should I pay?
Marshall Vauxhall is currently offering £4,924 off a 1.2-litre SXI three-door Corsa. Standard equipment on the SXI includes 16-inch alloy wheels, sports-style front seats, a leather steering wheel, tinted windows and cruise control. The car would usually cost £13,519 but is on sale for £8,595.
Evans Halshaw is offering the 1.2-litre petrol Corsa in Limited Edition five-door trim for £12,491 instead of £15,250, saving you £2,759. The company is also offering a year's insurance for free if you're over 21 (it'll cost £99 if you're younger), as long as you buy before the end of October. Limited Edition models have 17-inch black alloy wheels, a sporty VXR styling pack and sports suspension.
If you want something a little less sporty, you can get a 1.0-litre ecoFlex three-door Corsa in S trim from Arnold Clark for £7,995, which represents £3,630 off the list price. The finance package consists of 60 monthly payments of £149, after an initial £149 deposit.
The same dealer is offering a five-door Corsa with the 1.4-litre petrol engine we recommend for £10,195 in SRi trim. This represents a saving of £6,005 on the car's list price.
Vauxhall dealers have a good reputation for negotiating on the price of their cars, and if you're looking at buying a version of the outgoing Corsa, it would certainly be worth visiting your local Vauxhall branch before taking the plunge online. Taking a printout of an offer you've seen on the web may be a good way of haggling with a dealer, who might be willing to undercut offers (including the ones we've highlighted above) on an ad-hoc basis in order to make a sale and shift stock.