2015 Vauxhall Corsa VXR revealed - full details
Corsa VXR now more powerful than Ford Fiesta ST, priced from under £18,000
The new Vauxhall Corsa VXR is poised to challenge the Ford Fiesta ST for the title of Britain's best hot hatchback.
The new Corsa will be faster and more powerful than the Fiesta. Priced at £17,995, it also only costs around £600 more than an entry-level Fiesta ST-1 but gets more equipment as standard than the base Fiesta ST trim.
As these pictures show, the Corsa VXR loses nothing when it comes to visual appeal. As with the previous model, the 2015 Vauxhall Corsa VXR will only be available as a three-door. The VXR will also sport a range of racy features, including 17-inch alloy wheels, bigger bumpers and sports seats that'll offer plenty of support, just like its predecessor's.
The single centrally mounted exhaust of the old Corsa VXR has been swapped for a pair of large round pipes. There's a large rear spoiler, too.
Under the bonnet sits a modified version of the 1.6-litre turbocharged engine from the previous Corsa VXR. It produces 202bhp, which means it has 23bhp more than the Fiesta ST.
It's faster than the Ford, too, with a 0-62mph time of 6.8 seconds and a top speed of 143mph. In contrast, the Fiesta takes 6.9 seconds to reach 62mph from rest and has a top speed of 139mph.
But the Corsa VXR can only manage an average fuel consumption figure of 37.7mpg, while its CO2 emissions are 174g/km, so it'll cost £205 a year in road tax. That's some way behind the Fiesta ST (47.9mpg and 139g/km), Peugeot 208 GTI (47.9mpg and 139g/km) and Renault Clio Renaultsport (44.8mpg and 144g/km).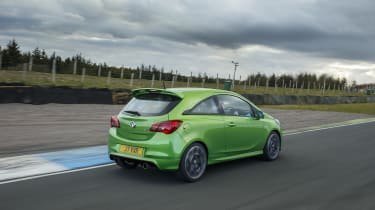 The new Vauxhall Corsa VXR will feature specially developed suspension with technology that promises to improve ride comfort, while still offering the stability in corners buyers demand. An electronic stability programme (ESP) with two modes – one offering reduced interference for a more involving drive on track – is also present.
The new hot hatchback has been adorned with extra tech compared to its predecessor: kit like bi-xenon headlights, a heated front windscreen and Vauxhall's Intellilink system are now standard equipment.
A Vauxhall Performance Pack will be available for an extra £2,400. It features some of the parts offered on the Nürburgring and Clubsport versions of the old Corsa VXR. These include more powerful Brembo brakes, 18-inch alloy wheels, stiffer suspension and a grip and stability-enhancing limited-slip differential.
The Vauxhall Corsa VXR will officially go on sale in May this year.