Honda CR-V 2015 facelift prices announced
The facelifted Honda CR-V SUV arrives in the UK in March, with prices starting at £22,340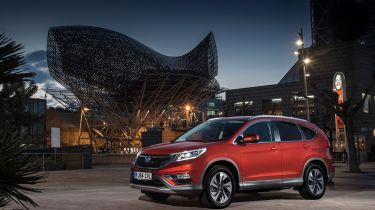 Honda has confirmed prices and specifications for the 2015 CR-V SUV, which gets a facelift and the choice of a new turbocharged 1.6-litre diesel engine.
The Honda CR-V range will continue to start at £22,340 for the entry-level 2.0-litre petrol model. But the 2.0 i-VTEC EX is no longer the most expensive model – that honour now goes to the new 1.6 i-DTEC 4WD automatic. This verison comes with the new engine and a nine-speed automatic gearbox, with an on-the-road cost of £35,620.
The range-topping model in automatic form returns 55.3mpg and emits 139g/km of CO2, which means road tax of £130 a year. Go for a cheaper manual version and the engine will return a slightly better 55.4mpg, with the same road tax cost.
Choose the less powerful diesel engine and you'll enjoy fuel economy of up to 64.2mpg, while the petrol engine range offers less impressive economy figures. All petrols return less than 40mpg and emit at least 168g/km of CO2.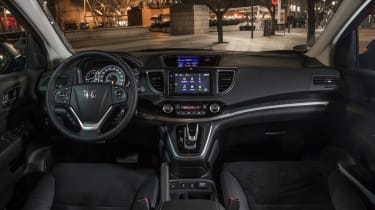 Trim levels carry over from the existing CR-V range, with S, SE, SR and EX available. Even the basic S trim has climate control, 17-inch alloy wheels, daytime running lights, anti-lock brakes and a dashboard multi-function display.
Higher-spec cars offer equipment such as parking sensors, a parking camera, a leather steering wheel, HDMI input, heated front seats and a better stereo.
Buy a facelifted Honda CR-V in the highest EX trim level and you can also purchase the optional SENSING Pack for £900. This includes Honda's new i-ACC system – a fancy version of cruise control that scans the road ahead and predicts the likelihood of other drivers cutting in front of you. If it senses danger, it'll automatically apply the brakes. The SENSING Pack also features lane-keeping assistance, traffic-sign recognition, blind-spot monitoring and other safety features.
The new Honda CR-V will arrive in UK dealerships in March. It comes with Honda's standard three-year/60,000 mile warranty, and has the option of a five-year servicing packaging for £500.
The new range at a glance:
Variant
Gearbox
CO2 (g/km)
Tax band
Price
Average MPG
Petrol engines
Honda CR-V 2.0 i-VTEC S (1 CD) (2wd)
Man
168
H
£22,340
39.2
Honda CR-V 2.0 i-VTEC S (Honda Connect with Navi) (2wd)
Man
168
H
£23,240
39.2
Honda CR-V 2.0 i-VTEC SE (Honda Connect) (2wd)
Man
168
H
£24,510
39.2
Honda CR-V 2.0 i-VTEC SE (Honda Connect with Navi) DASP (2wd)
Man
168
H
£25,680
39.2
Honda CR-V 2.0 i-VTEC SE (Honda Connect) (4wd)
Man
173
H
£25,610
38.2
Honda CR-V 2.0 i-VTEC SE (Honda Connect) (4wd)
Auto
175
H
£27,110
37.7
Honda CR-V 2.0 i-VTEC SE (Honda Connect with Navi) DASP (4wd)
Man
173
H
£26,780
38.2
Honda CR-V 2.0 i-VTEC SE (Honda Connect with Navi) DASP (4wd)
Auto
175
H
£28,280
37.7
Honda CR-V 2.0 i-VTEC SR (Honda Connect with Navi) (4wd)
Man
177
I
£28,590
37.2
Honda CR-V 2.0 i-VTEC SR (Honda Connect with Navi) (4wd)
Auto
179
I
£30,090
36.7
Honda CR-V 2.0 i-VTEC SR (Honda Connect with Navi) DASP (4wd)
Man
177
I
£29,190
37.2
Honda CR-V 2.0 i-VTEC SR (Honda Connect with Navi) DASP (4wd)
Auto
179
I
£30,690
36.7
Honda CR-V 2.0 i-VTEC EX (Honda Connect with Navi) (4wd)
Man
177
I
£30,435
37.2
Honda CR-V 2.0 i-VTEC EX (Honda Connect with Navi) (4wd)
Auto
179
I
£31,935
36.7
Honda CR-V 2.0 i-VTEC EX (Honda Connect with Navi) DASP (4wd)
Man
177
I
£31,035
37.2
Honda CR-V 2.0 i-VTEC EX (Honda Connect with Navi) DASP (4wd)
Auto
179
I
£32,535
36.7
Honda CR-V 2.0 i-VTEC EX (Honda Connect with Navi) Honda Sensing (4wd)
Man
177
I
£31,935
37.2
Honda CR-V 2.0 i-VTEC EX (Honda Connect with Navi) Honda Sensing (4wd)
Auto
179
I
£33,435
36.7
Diesel engines (120PS)
Honda CR-V 1.6 i-DTEC S (1 CD) (2wd)
Man
115
C
£23,400
64.2
Honda CR-V 1.6 i-DTEC S (Honda Connect with Navi) (2wd)
Man
115
C
£24,300
64.2
Honda CR-V 1.6 i-DTEC SE (Honda Connect) (2wd)
Man
115
C
£25,570
64.2
Honda CR-V 1.6 i-DTEC SE (Honda Connect with Navi) DASP (2wd)
Man
115
C
£26,740
64.2
Honda CR-V 1.6 i-DTEC SR (Honda Connect with Navi) (2wd)
Man
119
C
£28,495
62.8
Honda CR-V 1.6 i-DTEC SR (Honda Connect with Navi) DASP (2wd)
Man
119
C
£29,095
62.8
Diesel engines (160PS)
Honda CR-V 1.6 i-DTEC SE (Honda Connect) (4wd)
Man
129
D
£27,570
57.7
Honda CR-V 1.6 i-DTEC SE (Honda Connect) (4wd)
Auto
134
E
£29,350
55.4