New Jaguar XF 2015 revealed: full details, pics and video
New Jaguar XF saloon boasts lightweight construction for low running costs and impressive performance
The all-new Jaguar XF saloon will be one of the most affordable cars of its type to run when it goes on sale this August, having first been revealed at the New York Motor Show in April.
The car has been constructed using lightweight aluminium, which Jaguar claims makes it up to 80kg lighter than its rivals. That contributes to CO2 emissions as low as 104g/km – the lowest of any large non-hybrid saloon.
The 2015 Jaguar XF is also claimed to be capable of more than 70mpg fuel economy in its most efficient form.
Jaguar claims that thanks to its lightweight construction and aerodynamic shape, the new XF will deliver "an unrivalled blend of refinement, fuel economy, dynamics and design to the business car segment". That's an acknowledgement that a large proportion of sales will be to company-car drivers.
Video: See the 2015 Jaguar XF driving
That makes it all the more important to keep running costs – and particularly CO2 emissions – down, as company-car drivers focus on a low Benefit-in-Kind (BiK) rate. The cheapest models to own will be equipped with Jaguar Land Rover's 2.0-litre diesel engine, with a power output of either 161 or 178bhp. It's also worth mentioning that these engines are clean enough to meet the latest Euro 6 emissions standards.
Jaguar calls these advanced engines 'Ingenium'. They're built at a new £500m factory in Wolverhampton, West Midlands, and are mated to either a six-speed manual or eight-speed automatic gearbox.
Other engines available at launch include a 3.0-litre twin-turbo V6 diesel (which develops 296bhp) and a 3.0-litre supercharged V6 petrol in the XF S model. The latter develops 375bhp and is expected to take the car from 0-62mph in around 5.5 seconds.
Jaguar has tried to keep other running costs low, too. Insurance ratings for the XF saloon start from group 25 – five groups lower than the equivalent BMW 5 Series and eight below a similarly equipped Mercedes E-Class.
The XF will also be offered with a number of service plans to keep maintenance costs down. If you choose one of the two 2.0-litre Ingenium diesel engines, 'Standard' or 'High Mileage' plans are available. The former costs £525 and provides servicing for five years or 50,000 miles, while the latter will set you back £675 and gives you five years or 75,000 miles of routine maintenance.
Jaguar also reckons the XF will hold onto 52% of its value after three years on the road. That compares to 45% for the Mercedes E-Class and 44% for the BMW 5 Series.
New Jaguar XF chassis and handling
The new XF also features sophisticated suspension that's claimed to balance agility, comfort and refinement. Adjustable 'Adaptive Dynamics' suspension, which changes its behaviour depending on driving conditions, is also available.
The XF's electric power steering was designed by the same team responsible for the systems in the Jaguar F-Type sports car and Jaguar XE saloon. Both of those cars have crisp and precise steering, so the XF should be no different.
Another feature borrowed from the F-Type is Jaguar Configurable Dynamics, which allows you to tailor the car's suspension, steering and engine settings (as well as the operation of the automatic gearbox, if one is fitted) to your taste.
All-Surface Progress Control is a development of a similar system fitted to Land Rover models. It's a low-speed cruise control that takes care of all acceleration and braking in slippery conditions. The system maximises traction in rear-wheel-drive versions of the XF, allowing you to concentrate on steering.
The new Jaguar XF is not as tall as the car it replaces, as well as being shorter and sitting lower to the ground. However, the wheelbase (the distance between front and rear wheels) is longer, which results in more legroom, kneeroom and headroom than in rivals such as the BMW 5 Series, Audi A6 and Mercedes E-Class.
New Jaguar XF equipment and technology
Jaguar says the new XF uses a range of luxury materials inside the car, assembled with "traditional Jaguar craftsmanship". The car's on-board technology includes the brand's latest InControl Touch Pro infotainment system with a 10.2-inch touchscreen featuring Dual View technology. This enables you to see a sat-nav display while at the same time your front-seat passenger watches TV or a DVD.
The infotainment system uses a solid-state hard drive and a quad-core computer processor for improved graphics. Its interface is also similar to a smartphone's, so you have the option to choose your own wallpaper or add widgets to the home screen for a personalised feel.
The 2015 Jaguar XF also features a 12.3-inch instrument cluster. The configurable display can show a variety of information, including the car's speed, fuel level, oil temperature and engine revs. This system is already in use in the Jaguar XJ luxury saloon and Range Rover SUV.
Other options include a laser head-up display and Adaptive Cruise Control, which uses radar to scan the road ahead. It can maintain a safe distance from other cars, come to a halt with traffic and move off again when the vehicle in front does. An advanced version of blind-spot detection is also available. This will warn you of cars in the vicinity when you're either changing lanes on the motorway or reversing out of a parking space.
Video: Hear Ian Callum's thoughts on the new XF
Ian Callum, Jaguar's design boss, said: "Inside, we've been driven by the desire to ensure the XF's cabin is as comforting as it is comfortable. New technology, including our new 10.2-inch touchscreen, is combined carefully with materials that cosset and reassure. The all-new XF has a clear sense of calm and strength, both outside and inside – and I'm proud of my team for delivering that."
New Jaguar XF high-wire reveal
In order to highlight the lightness of the new Jaguar XF, it was revealed on a 240-metre high-wire crossing above the Royal Docks in London's Docklands. The event set a new world record in the process.
Jim Dowdell, a British stuntman who counts appearances in the James Bond, Bourne and Indiana Jones franchises on his CV, drove the XF as it teetered over the Thames.
Video: See the new Jaguar XF at its high-wire reveal
For more on Jaguar's current range of cars, including the new Jaguar XE saloon, check out Carbuyer's reviews page.
2020 Jaguar XE facelift includes mild-hybrid engine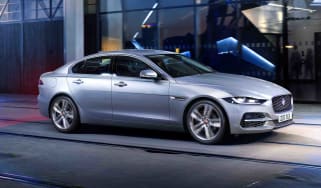 2020 Jaguar XE facelift includes mild-hybrid engine
Updated Jaguar XF launched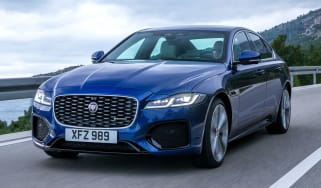 Updated Jaguar XF launched
New 2020 Kia Stonic SUV: prices and specs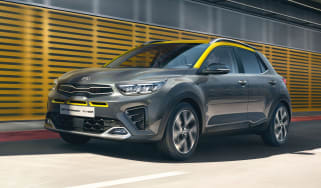 New 2020 Kia Stonic SUV: prices and specs
Updated Peugeot 5008 starts at £29,585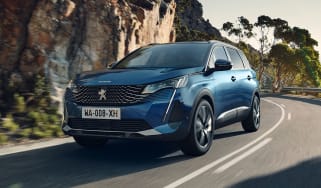 Updated Peugeot 5008 starts at £29,585
Cupra Formentor SUV review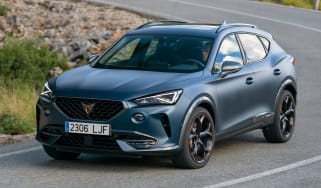 Cupra Formentor SUV review