Rusty Duster owner bailed out by dealer
Dealer steps in after Dacia refuses to help reader when corrosion quickly appears on SUV
Dacia has made an impressive start to life in the UK, building strong sales for its Logan MCV, Duster and Sandero with owners delighted by their practicality and value.
But do those lower costs impact on build quality? Reader Mike Madden from High Peak, Derbyshire, certainly thinks so, having found rust on the underside of his Duster just weeks after buying it from the local franchised Dacia dealership.
The car was originally returned to the dealer for a faulty tyre pressure sensor, and it was while it was parked up on his driveway waiting for collection that Mike was shocked to notice the rust.
"The fact is, the rust that I can see is extensive, and I don't know what I can't see," he said. "I'd happily take a replacement of the same model without the rust."
The car was taken back to Dacia to investigate, and Mike was given a Renault Clio as a courtesy car. However, after several weeks the brand told Mike it wouldn't be giving him a new car or doing any repairs.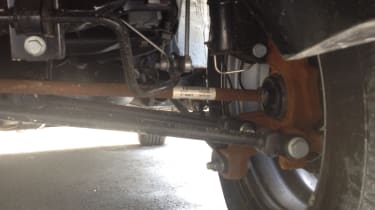 Auto Express, Carbuyer's sister magazine, felt this wasn't right, as the Duster had covered only a handful of miles. Mike was well within his rights to expect showroom quality.
However, when Auto Express spoke to Dacia, it stuck to its guns. It wouldn't accept a rejection or find Mike a new car. Its spokesman said: "Some surface corrosion was found on certain mechanical underbody components. This does not affect the performance or durability of these parts.
"Paint protection is applied to all of a vehicle's bodywork to ensure the finish and durability of the body panels. However, mechanical components, such as driveshafts, suspension and axles are designed to be durable without the requirement of paint protection.
"Surface corrosion to mechanical underbody components can be more evident in vehicles with a higher level of ground clearance and can be seen on other manufacturer's vehicles."
Fortunately for Mike, his dealer decided to support him and agreed to take the car back and refund him the money.
Mike said: "It's great the dealer has taken this stance and it's good for its reputation."