Reader shocked by £2k bill for replacement Audi
Alex Coltart left disappointed by Audi's offer after A3 Sportback needed host of repairs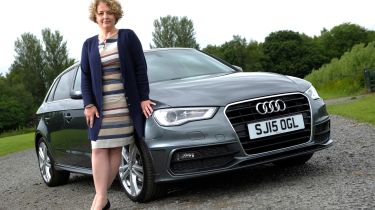 Many car buyers decide to spend that little bit extra for a premium brand when splashing out on a new car in the hope it'll guarantee them hassle-free motoring. It's not always the case and when they do go wrong, it can often mean hefty bills.
Alex Coltart, from Maybole, Ayrshire, contacted us after her Audi A3 Sportback spent a third of its time with her in the garage. Alex bought the car in March to use on her daily commute, but since then it has been back and forth for repairs. The A3 had all four fuel injectors replaced and a new steering rack and fuel pump installed.
Alex was unhappy at the amount of repairs needed. She said: "I have lost all faith in the vehicle, and because my job involves a significant amount of travelling, I'm finding not knowing what will go wrong next extremely stressful."
Having lost faith in the vehicle, Alex contacted Audi UK and sought to reject the vehicle. She said: "The car has not been of satisfactory quality, or even fit for use much of the time that I have been paying for it."
Audi was quick to respond and offered a replacement vehicle, but insisted Alex pay an extra of £2,700 for the new replacement – a figure calculated by Audi to reflect the depreciation and mileage covered during her ownership of the A3. Alex felt this was unjustified, adding: "This seems very unfair because all I wanted was to buy a shiny new car and enjoy driving it. Now it seems I have to pay an added premium to expect that."
While it's common for manufacturers to require payment to cover these costs, we felt it was excessively high and contacted Audi to press Alex's case.
An Audi spokesman agreed with us and said: "To minimise this financial impact, Ms Coltart has received financial support of £250 from Audi Customer Services by way of an apology for the inconvenience caused, and a further goodwill payment of £500 to contribute to the cost of the replacement."
Alex wasn't totally satisfied, although the replacement cost is now less than £2,000. She told us: "I can see that it's an improvement, but I feel I've been given a faulty vehicle and therefore it should be replaced free of charge."