Subaru Impreza 5-Door Concept previews next-gen hatch for 2016
Subaru has shown a concept at the Tokyo Motor Show hinting at next Impreza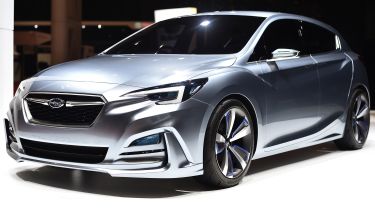 The current Subaru Impreza is a far cry from the fire-spitting rally-bred saloon of the nineties. It's now a rather staid-looking family hatchback that occupies a niche of its own due to its four-wheel drive and lack of a diesel engine. It's now set for a stylish rebirth, as previewed by the Impreza 5-Door Concept revealed at the 2015 Tokyo Motor Show.
The concept is a much more aggressive design than the current Impreza and harks back to the company's traditional fun-to-drive and exciting cars. These sharper looks, including a similar grille to the new Subaru Levorg estate and swept-back headlamps, should help the new Impreza take on the likes of the latest Vauxhall Astra and Ford Focus.
Overall, the styling of this concept is very reminiscent of the new Infiniti Q30, and it also shares styling cues with another Subaru concept doing the rounds at the minute – the VIZIV SUV which previews a replacement for the rugged Subaru Forester off-roader.
As this is a concept car previewing the design direction of future models from the Japanese brand, technical specifications such as engine and gearbox combinations are currently unknown.
It's unlikely the next Impreza will feature the same 1.6-litre 112bhp petrol engine as the current car – it's more likely to have a new engine that'll be more competitive in terms of fuel economy and emissions with those used in the Subaru's family hatchback rivals.
We do expect Subaru's Lineartronic CVT automatic gearbox to feature, though, while four-wheel drive is likely to be an option alongside a standard front-wheel-drive setup. A production version of the new Impreza is likely to appear some time in 2016.