Volkswagen to focus on networking at CES 2016
Volkswagen will unveil a concept focusing on electronic networking and long-distance electro-mobility at CES 2016.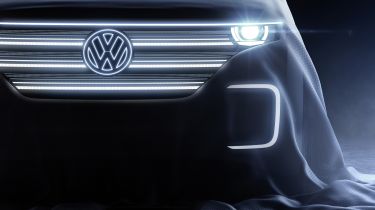 A new concept showcasing Volkswagen's ambitions to create electric cars that can travel longer between charges will be shown at the 2016 Consumer Electronics Show (CES) in Las Vegas next month.
The Volkswagen CES concept will show off advances that VW anticipates in affordable, long-distance electro-mobility – meaning electric cars that can travel long distances between charges.
It'll also showcase the next generation of connectivity between cars – with cars themselves set to become networked and share information between each other. This will not only make them more autonomous, but also safer, as they'll be aware of traffic jams and collisions ahead before they're within visual range.
The new car – seen in the teaser image on this page – will also borrow many of the features from last year's CES offering, the Volkswagen Golf R Touch concept.
We've yet to see any further information on the car, such as its size and styling, but what we can see from the teaser image is that it'll use the same 'C'-shaped LED daytime running lights seen on VW's electric cars – the Volkswagen e-up! and Volkswagen e-Golf.
CES has long been a barometer for coming trends in electronics. And with electronics becoming ever-more important in cars, manufacturers are becoming more and more involved.
January 2016's show will see VW's car boss Dr. Herbert Diess provide the keynote speech the night before the show opens its doors on 6 January. This speech will concentrate on the company's latest developments in connectivity and electro-mobility.