Rugged looks for Skoda Kodiaq Scout: specs and prices
The Skoda Kodiaq Scout is now available to order, with a pumped-up look, high standard specification and four-wheel drive for £32,330.
The Skoda Kodiaq Scout sits between the existing SE L and Edition trim levels and the most noticeable changes are new front and rear bumpers, designed with off-road driving in mind.
Aficionados of the popular SUV should also notice Scout badges on the front wings, silver door mirrors and 19-inch 'Crater Anthracite' alloy wheels. Lie next to the Kodiaq Scout and you might even spot its 'rough road package', designed to protect the bottom of the engine and chassis.
Haul yourself inside and you're greeted with Alcantara seats and door trims, while a wood-trimmed dashboard points to the Kodiaq's leanings towards the great outdoors. Unlike the rest of the range, seven seats are standard for field trips and the Scout also gets aluminium pedals, as well as ambient lighting.
The Scout trim is available with 1.4 or 2.0-litre petrol engines, making 148 and 178bhp respectively, or Skoda's 2.0-litre TDI diesel, with 148 or 187bhp. Four-wheel drive is standard and both 148bhp engines come with a six-speed manual gearbox or an optional seven-speed DSG automatic, while the top engines are fitted with DSG as standard.
Prices for the Skoda Kodiaq Scout start from £32,330 for the 1.4-litre petrol and reach £36,330 for the range-topping 187bhp 2.0-litre diesel model.
The Skoda Kodiaq is a rival to the Nissan X-Trail, Peugeot 5008 and the soon-to-arrive Volkswagen Tiguan Allspace in the seven-seat family SUV class. It also goes up against the likes of the Hyundai Santa Fe and Kia Sorento.
It's available in a choice of four trim levels – S, SE, SE L and Edition, as well as the Scout mentioned above and a Sportline version for enthusiastic drivers.
Fitting seven seats costs just under £1,000, but they come as standard with the Scout.
There's a choice of three petrol engines and two diesels at launch, with a third diesel joining the range at a later date. Four-wheel drive is available on all models except those with the least powerful petrol and diesel engines and it's standard on the Scout and Sportline. There's also be the choice of six-speed manual or dual-clutch automatic gearboxes on all but the entry-level engines.
Prices for the new car start at £22,190 for an entry-level petrol model, rising all the way to £36,135 for the most powerful 187bhp diesel in top-spec Edition trim with seven seats.
Equipment and specification
At launch, the Skoda Kodiaq was available in four trim levels – S, SE, SE L and limited-run Edition. The entry-level S model, which is only available with the 123bhp turbocharged 1.4-litre petrol engine, starts at £22,190. Standard equipment on the S includes LED daytime running lights, 17-inch alloys, a leather trimmed steering wheel and air-conditioning. It also gets DAB radio, keyless entry and go, Bluetooth connectivity, a 6.5-inch touchscreen infotainment system and SmartLink smartphone connectivity, which includes Apple CarPlay and Android Auto.
Upgrade to SE – which costs from £23,640 – and you get a wider choice of engines, including the 148bhp 1.4-litre petrol and 2.0-litre diesel. These engines are also available with four-wheel drive and either a six or seven-speed a dual-clutch automatic gearbox. In terms of standard equipment, you get 18-inch alloys, cruise control, rear parking sensors, an eight-inch touchscreen infotainment system, dual-zone climate control, as well as automatic lights and wipers. Seven seats are a £1,000 optional extra on the SE.
Further up the range, the SE L starts from £28,725 and comes with satellite navigation, a powered tailgate, 19-inch alloy wheels, a wifi hotspot, suede-like Alcantara upholstery, heated front seats and LED headlights.
Top-of-the-range Edition trim (priced from £30,825) adds leather upholstery, a different design of 19-inch alloy wheel, metallic paint, chrome roof rails and a wireless phone charging box, as well as a host of safety features. These include lane-keeping assistance, adaptive headlights and blind-spot monitoring.
Interior & technology
Unsurprisingly, the Kodiaq's interior will be very familiar to those of you already well acquainted with the Volkswagen Group's range. Large, trapezoidal, portrait-orientated air vents flank the new infotainment touchscreen, which sits above the climate controls in the centre console.
Top-of-the-range models will come with Infotainment Online, which includes real-time traffic updates for the sat nav and an integrated wi-fi hot spot as standard. This connects to the web using, according to Skoda, "the fastest mobile communications standard currently available".
As well as allowing passengers to browse the internet while on the move, the web connection gives access to Skoda's Care Connect service, which lets you to check some features of the car remotely, find where you left it in a car park and even configure some aspects of it. It also has an eCall function, which automatically notifies the authorities in the event of a crash where the airbags have been deployed.
Smartphone connectivity has also been a focus, with Apple CarPlay, Android Auto and MirrorLink compatibility all standard features. The Skoda 'phonebox' uses wireless inductive charging to keep your phone topped up and connects it to the car's aerial to improve signal.
The Kodiaq also comes with a variety of driver-assistance systems, including a range of cameras to allow you to see all around the vehicle, while a towing assistance system can steer the car automatically when you're parking with a trailer attached. There are also upgraded parking sensors that can brake the car automatically, while adaptive cruise control is also available.
Skoda Kodiaq design
The unveiling of the Kodiaq at the Paris Motor Show (together with earlier official images) confirmed it as looking broadly similar to the Skoda Vision-S concept seen at Geneva in March 2016. Slender headlights leading into a large radiator grille simultaneously disguise the Kodiaq's heft while emphasising its road presence. Large 'C'-shaped rear lights are another carryover from the Vision-S concept.
The Kodiaq name is a nod to the Kodiak bear that lives on a remote island off the south coast of Alaska. The native human inhabitants of the island – the Alutiiq – call the bear 'Taq uka', which is where the 'q' at the end of Kodiaq is derived from.
Skoda wants the Kodiaq to combine function and form in equal measure. The brand's head of design Jozef Kaban said: "We aspire to combine the highest degree of aesthetics with maximum functionality in such a way that one no longer speaks of different criteria. We are searching for beauty in simplicity, without disregarding functionality or ergonomics. A good design makes functionality attractive."
Practicality
Serious practicality comes with the smart looks: the Kodiaq is a five-seater as standard, with sliding and split-folding rear seats, as well as an optional third row of seats making it the first seven-seat Skoda. Five-seat models come with a best-in-class 720-litre luggage capacity behind the second row of seats, while the seven-seat version sees this reduced to 630 litres.
Fold all the seats down and you'll get up to 2,065 litres of space, while five-seat models will come with adjustable second-row seats as standard. These are capable of being tilted, slid forward and back and folded individually. An optional folding front passenger seat, meanwhile, allows the Kodiaq to accommodate items up to 2.9 metres long.
The Kodiaq can also be festooned with cameras. Skoda's Area View system includes front, rear and mirror-mounted cameras that'll provide a 360-degree bird's-eye view of the car during low-speed manoeuvres.
Engines & drivetrain
At launch, there's a choice of two diesel and three petrol engines, with the most powerful petrol being a 178bhp turbocharged 2.0-litre. There are also be two turbocharged 1.4-litre petrol engines, with one offering 123bhp and the other 148bhp. The second of these comes with fuel-saving cylinder-deactivation technology. The 178bhp turbocharged four-cylinder petrol is the quickest model in the range at launch, managing 0-60mph in just 7.7 seconds.
The diesels should be the big sellers, however, with the 148bhp 2.0-litre version likely to be the most popular. Fitted with a six-speed DSG twin-clutch automatic gearbox and front-wheel drive, this is the cleanest model in the range, emitting 131g/km of CO2, rising to 144g/km with four-wheel drive and a manual gearbox.
There's also a 187bhp diesel, likely to be the Kodiaq engine of choice for those who tow regularly and capable (unencumbered with a trailer, we might add) of doing 0-60mph in just 8.5 seconds. Meanwhile, a high-performance 237bhp twin-turbocharged 2.0-litre diesel will arrive later and is set to provide even more pulling power.
The latest Volkswagen Tiguan is available as a GTE plug-in hybrid and the same technology could find its way into the Kodiaq – although it may prove too expensive for what's still seen as the VW Group's 'value' brand.
The Vision S concept was a plug-in hybrid, producing 225bhp from a 1.4-litre TSI petrol engine and an electric motor. Skoda claimed the show car was capable of reaching 62mph from rest in just 7.4 seconds. A high-performance vRS version is also – according to our sister title Auto Express – "under discussion".
There's a choice of six-speed manual and seven-speed DSG dual-clutch automatic gearboxes, while the Kodiaq will be offered with two-wheel drive as standard, with the option to specify four-wheel drive if you need extra grip. Alongside this, there'll be selectable driving modes that can alter the driving experience to suit the conditions, as well as optimising the car for off-roading.
Skoda Kodiaq price & on-sale date
Pricing for the Skoda Kodiaq starts at £22,190 for the entry-level S model with the least powerful petrol engine, five seats and just a six-speed manual gearbox. This rises all the way to £36,135 for a top-of-the range Edition version with the most powerful diesel engine. The Skoda Kodiaq Scout costs from £32,330 to £36,330 with seven seats and four-wheel drive as standard.
Updated Peugeot 5008 starts at £29,585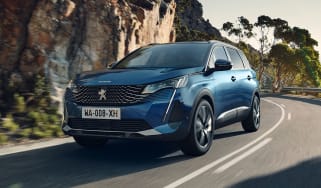 Updated Peugeot 5008 starts at £29,585
Cupra Formentor SUV review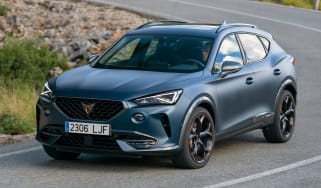 Cupra Formentor SUV review
2020 Volkswagen ID.3 hatchback: base model starts at under £30k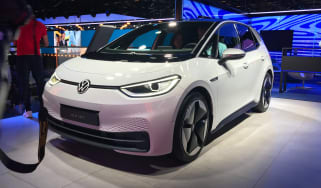 2020 Volkswagen ID.3 hatchback: base model starts at under £30k