Nissan Qashqai to get self-driving technology in 2017
Popular Nissan Qashqai crossover to become semi-autonomous by 2017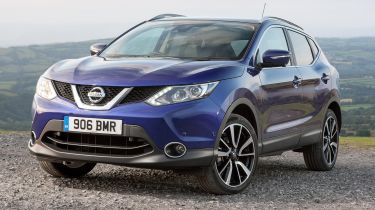 Nissan has used the Geneva Motor Show to announce that the hugely popular Nissan Qashqai SUV crossover will offer semi-autonomous driving capability by 2017.
This follows a rising trend in the automotive industry: Tesla blazed the trail with the autonomous function on the Tesla Model S electric executive saloon, while Volvos are set to receive similar technology in 2017.
The Qashqai will be the first European-market Nissan to benefit from this technology – called 'Piloted Drive 1.0' – and although it won't allow fully autonomous driving, it will let the car essentially drive itself under certain traffic conditions.
Currently being tested at Nissan's UK factory in Sunderland, the system uses multiple sensors to scan its surroundings and stop the car from crashing into any other vehicles, people or obstructions on the road. It'll only work under heavy traffic conditions in a single lane or on the motorway, however.
Autonomous future
This news marks the first step on the road to an autonomous future for Nissan. By 2020, the company is aiming to have a whole range of autonomous cars available, likely with more extensive capabilities than this Qashqai, including the ability to change lanes by themselves and negotiate inner-city junctions.
Speaking about the developments, Paul Wilcox, chairman of Nissan Europe said: "The introduction of Piloted Drive technologies will be an evolution, not a revolution, as the building blocks for this are already in place in many of our cars today through our Safety Shield Technology. With the driver in control, we want to remove the pain-points of being behind the wheel, like navigating heavy traffic, to put the excitement back into driving."
Japanese-market Nissans will be the first to receive Piloted Drive technology, with the first examples going on sale there in 2016. Europe is next on the company's list, though, so the first semi-autonomous Qashqais will arrive in the UK in 2017, following an on-road demonstration run later this year.