New Peugeot 3008: prices, specs & release date
Peugeot has released full details of its brand new 3008 SUV
Full pricing and specifications for the new Peugeot 3008 have been announced, revealing a well equipped and competitively priced car. The 3008 was revealed back in September at the Paris Motor Show, with Peugeot claiming it would be the most advanced model the company had ever made.
Full Peugeot 3008 SUV review
The 3008 is packed full of technology. All cars come with Peugeot's i-Cockpit display, which replaces the dashboard dials with a 12.3-inch colour screen. Autonomous emergency braking, a lane-departure warning system and traffic-sign recognition are also standard across the range. Those features contributed towards the 3008 receiving the full five stars when Euro NCAP assessed it for crashworthiness.
As a thoroughly modern car, the 3008 makes use of the latest weight-saving materials, so fuel economy is decent despite it being a reasonably large SUV. The most economical diesel engine manages just over 70mpg, while even the thirstiest petrol engine returns almost 50mpg.
Four trim levels are offered, with Active kicking the 3008 range off. Allure, GT Line and GT trims follow, although top-spec GT is reserved for the most powerful diesel engine.
The original 3008 was a hugely practical car, but its blend of MPV and SUV looks meant its position in the market was always slightly uncertain. The new model is a true SUV, though, and a genuine rival for the Volkswagen Tiguan, Nissan Qashqai, Ford Kuga and Renault Kadjar.
Peugeot 3008 design
The new Peugeot 3008 is instantly recognisable as an SUV, with a raised ride height and a bold front end. There's plenty of chrome too, with the shiny metal surrounding the grille and foglights, while there's also an eye-catching front protective skid plate.
The sharp headlights are cleaved in two by a piece of the front bumper, while creases abound on the bonnet and down the side of the car.
Black plastic cladding around the wheelarches and at the bottom of the doors lends a rugged appearance. The roof and roof supports are available in contrasting colours, giving the appearance that the roof it floating.
Chrome trim runs from the front windscreen support over the roof to the rear spoiler. The rear light clusters are divided in three, and the upper part of the tailgate is finished in black and the bottom half in body colour. The rear bumper is a combination of black plastic and chrome.
Interior
There's more space inside the 3008 than before despite the car's external dimensions being reduced. That's largely due to it having a longer wheelbase, meaning there's a longer gap between the front and rear wheels. There's plenty of space in the rear seats, and the boot measures an impressive 520 litres when the rear seats are in place; substantially more than you'll get in the Nissan Qashqai or Renault Kadjar. Fold the seats, and boot space grows to 1,580 litres.
The Peugeot 3008 is claimed to have class-leading connectivity, with technology including wireless smartphone charging and MirrorLink compatibility (a system the mirrors your smartphone's screen on the car's own screen). Android Auto and Apple CarPlay will also be standard across the range, allowing you to control many of your smartphone's apps from the car's touchscreen.
The new 3008 will also be the first Peugeot to feature the firm's second-generation i-Cockpit system. It's a digital instrument display that replaces the car's analogue dials and can be configured with a range of information including speed, fuel economy, available range and sat-nav instructions. The system is similar in concept to Audi's Virtual Cockpit, although Peugeot is bundling all 3008s with its i-Cockpit, while Audi charges extra for its Virtual Cockpit with some models.
Engines
The new Peugeot 3008 engine range comprises two petrol engines and four diesels.
The petrol range is made up of a 128bhp 1.2-litre engine and a 163bhp 1.6-litre unit. The four diesel choices are a pair of 1.6-litre engines developing 98bhp and 118bhp and two 2.0-litre engines producing 148bhp and 178bhp. The most powerful petrol and diesel engines will only be available with a six-speed automatic gearbox; the rest of the range will have a manual gearbox as standard, though most engines can be paired with an automatic if required.
Economy ranges from 48.7mpg for the most powerful petrol engine, to 70.6mpg with the 99 and 118bhp diesels. CO2 emissions of between 103 and 129g/km, meaning no 3008 will cost more than £110 a year under the current system and all will cost £140 annually after the first year when the new road tax rules arrive in April.
New Peugeot 3008 hybrid
Our sister title Auto Express has been told the new 3008 will be among the first Peugeots to offer a plug-in hybrid engine. The 3008 hybrid won't be available from launch, but with expected emissions of less than 50g/km, fuel economy around the 150mpg mark and an electric-only range of around 30mpg, it's worth waiting for if you're seeking the lowest daily running costs
The 2017 hybrid 3008 will feature a small petrol engine powering the front wheels, and electric motors powering the rear wheels. It's likely this technology will be at the expense of some of the car's boot space.
Safety & equipment
3008 customers can choose from four trim levels. Entry-level Active cars start at just under £22,000 and have autonomous emergency braking, the i-Cockpit system, an eight-inch infotainment touchscreen, rear parking sensors, a DAB radio and 17-inch alloy wheels.
Allure trim is around £1,800 more and adds sat nav, a reversing camera and upgraded trim details, inside and out. GT Line trim is a further £1,900 or so and includes wireless phone charging, full LED headlights and even more material improvements.
The top-spec GT model is only available with the 178bhp 2.0-litre diesel engine, so it's pretty expensive. You'll want for very little, though: GT trim includes fine Napa leather, a panoramic sunroof, adaptive cruise control, a massaging driver's seat and a hands-free, power-opening boot.
3008s in Allure trim and above also come with the 'Safety Plus Pack', which comprises blind spot detection, active lane-keeping assistance and a driver attention alert system that can detect the driver's level of fatigue. There are also adaptive headlights that automatically adjust their beam to stop them from blinding oncoming traffic.
The 3008's high standard of built-in safety has already been proven with a five-star result in independent Euro NCAP crash testing. This excellent result is partly thanks to the impressive roster of safety features fitted across the range, which includes speed-limit sign detection and recommendation.
Other advanced systems include active safety braking and a collision warning system. This is linked to an automatic emergency braking system that lessens the severity of impacts or avoids collisions altogether by reducing the car's speed when an oncoming hazard is detected.
Entry-level Active cars still get a lane-departure warning system, although this only alerts you if you drift out of your lane without indicating. On the Allure model and above, the system will take corrective steering action.
Another practical feature available on the 3008 is parking assistance, which allows the car to steer itself into a parking space, leaving you to just operate the pedals.
Optional scooter
One novel option is the electrically assisted 'e-kick' scooter. It folds and stows in the car's boot when not in use and can be charged there using a docking station while the car is being driven. It has a range of 7.5 miles and takes an hour to charge. Peugeot says that with a top speed of 15mph, it's intended to make journeys through city centres easier and looks set to cost around £1,000.
Price and on-sale date
The Peugeot 3008 range starts at £21,795 for the 128bhp 1.2-litre petrol engine with Active trim, rising to £32,995 for the top-of-the-line GT model. A mid-range 118bhp diesel in Allure guise is £25,445.
Order books open on 1 December and first deliveries are expected on 28 January 2017.
The hybrid model is expected to start at around £30,000 (after the Government's plug-in car grant has been deducted) when it goes on sale next year.
New 355bhp Peugeot 508 Sport Engineered PHEVs unveiled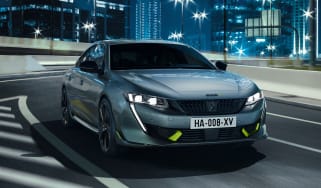 New 355bhp Peugeot 508 Sport Engineered PHEVs unveiled
New 2023 Peugeot 5008 SUV to get electric and hybrid power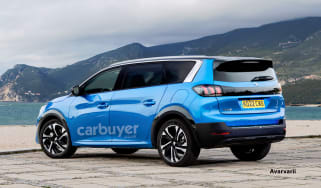 New 2023 Peugeot 5008 SUV to get electric and hybrid power
Updated Peugeot 5008 starts at £29,585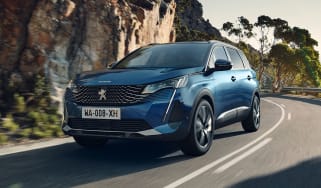 Updated Peugeot 5008 starts at £29,585
Cupra Formentor SUV review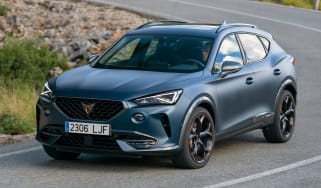 Cupra Formentor SUV review
2020 Volkswagen ID.3 hatchback: base model starts at under £30k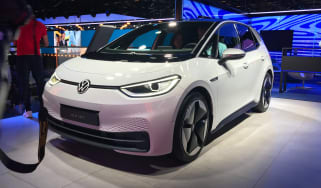 2020 Volkswagen ID.3 hatchback: base model starts at under £30k