Watchdog: Engine failure leaves owner with £5,300 bill
Specialist VW garage claims there's an inherent problem with firm's 2.0 FSI turbo engine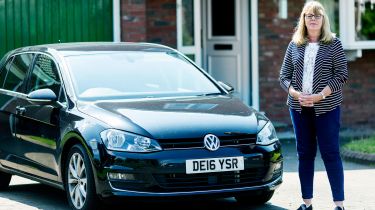 When the engine failed on one reader's six-year-old Volkswagen Eos, she thought it was just bad luck. But a specialist VW garage in Wales claims there is a manufacturing fault with the car's 2.0-litre FSI turbo engine.
Alison Membery of Middlewich, Cheshire, had her car towed to VW specialist Garej Arwyn in Gwynedd after it broke down in January. But, despite a full vehicle inspection and a report concluding a failed tensioner on the timing chain was to blame, Alison claims supplying dealer VW Crewe refused to acknowledge its findings. "It said VW would only accept inspection reports from the AA, the RAC or DeKRA," she said.
As her car was out of warranty, Alison was therefore left facing a £5,300 engine replacement bill. "After months of complaining, I was offered just £1,000 towards my costs and I wasn't even loaned a courtesy car," she told us.
Carbuyer's sister site Auto Express called Garej Arwyn to ask about its findings, and owner Arwyn Hughes told us: "There is an inherent fault with this 2.0-litre FSI turbo engine. The problem is that the tensioner fails, and then the timing chain goes slack.
"This is not a serviceable item, so it should be fine for the life of the car. But we've had six VWs towed in here with this engine and this problem in the last six months alone – most of them Golfs."
We called VW to ask whether it was aware of the problem, and how long the part was supposed to last, but it refused to comment. Instead, its spokesman said: "Regrettably engine failure at this age and mileage, while rare, does occasionally happen. There is a multitude of influencing factors that can result in this type of failure." However, he added that VW was planning to contact Alison "to discuss an enhanced contribution to the cost of a replacement engine".
Alison has since confirmed VW and her dealer have offered a 75% contribution to the cost of a new engine, and arranged for a courtesy car. Alison told us: "I can't believe how much VW's changed its tune since Auto Express got involved. But I'd still rather swap into another car now, as I've lost faith in this one. So I've asked the dealer to give me a trade-in price on an approved used Golf."