Revisions for 2017 Range Rover Sport announced
New engines & more technology for refreshed 2017 Range Rover Sport
Updates for the 2017 Range Rover Sport SUV have been announced, including the introduction of new 2.0-litre, four-cylinder 'Ingenium' diesel engines and a 3.0-litre supercharged petrol V6 being. The new car will also feature an updated infotainment system, wi-fi connectivity and some semi-autonomous driving features.
There's also a greater choice of exterior paint colours, while cars in Autobiography Dynamic trim can be specified with the Bright Pack, which adds some more distinctive exterior trim.
2017 Range Rover Sport engines
Two new engines have been added to the 2017 Range Rover Sport range: a twin-turbocharged 2.0-litre 'Ingenium' four-cylinder diesel and a supercharged 3.0-litre petrol V6.
The former is likely to be the big seller and it produces 237bhp, allowing the four-wheel-drive Range Rover Sport to accelerate from 0-60mph in eight seconds. Land Rover also claims it'll be capable of returning around 45mpg fuel economy, while CO2 emissions of 164g/km mean a manageable £185-a-year road-tax bill. Company-car buyers will be liable for 32% Benefit-in-Kind (BiK) tax contributions.
Petrol lovers are now able to specify the Range Rover Sport with the 335bhp supercharged 3.0-litre V6 available across much of the rest of the Jaguar and Land Rover range. Capable of propelling the car from 0-60mph in 7.1 seconds, it also allows for a top speed of 130mph. It'll return around 26.9mpg, while CO2 emissions of 243g/km make it the second-most-expensive Range Rover Sport to tax, with a whopping £500 Vehicle Excise Duty bill every year.
The rest of the engine range is unchanged, with the 3.0-litre V6 diesel and diesel hybrid still available, as well as the 4.4-litre diesel V8 and the 5.0-litre supercharged petrol V8 (with either 503 or 542bhp).
Technology
As well as new engines, the revised Range Rover Sport also gets heaps of new technology, ranging from an upgraded infotainment system to a variety of semi-autonomous driving and driver-assistance systems.
This includes the latest InControl Touch Pro system already seen on other cars from Jaguar Land Rover. It incorporates a new 10-inch high-resolution touchscreen, while a new configurable TFT screen replaces the traditional analogue instruments and can show a combination of sat-nav instructions and other important information, including your speed and fuel range. You can also use 'pinch-and-zoom' gestures on the navigation screen and control much of the rest of the car using smartphone and tablet-like gestures, including swiping between menus.
This new system also lets you download apps directly to the car over the wi-fi internet connection, rather than via your smartphone. These include live weather and news updates. You can also download a smartphone app that lets you remotely check various aspects of your car (including its fuel level and estimated range) as well as set the climate control and lock and unlock the doors.
Land Rover has also significantly upgraded the Range Rover Sport's sat-nav system. It now includes a 'Commute Mode' that recognises regular journeys and will automatically re-route you around bad traffic. Another system called 'Door-to-Door Routing' allows you to set a route on your smartphone that's then transferred to the car. The system will then keep directing you if you have to park a fair distance from your destination and walk the rest of the way.
As well as the infotainment upgrades, there's also a host of semi-autonomous kit. This includes Advanced Tow Assist, which automatically steers the car and a trailer into a parking space, with you just needing to operate the accelerator and brake. The system will also alert you if it detects a 'jack-knife' situation is imminent.
Also available on the 2017 Range Rover Sport will be a new 'Low Traction Launch' system, which improves grip when you're moving off on slippery surfaces. The new car also gets an updated All-Terrain Information Centre, which shows useful off-roading information, such as the direction the wheels are pointing, a wade sensor and camera views of the surrounding terrain.
In terms of safety, the 2017 Range Rover Sport will get autonomous emergency braking as standard. This initially warns you of an imminent collision before automatically applying the brakes if you don't react.
The revised Drive Pack – optional on HSE and HSE Dynamic models – includes blind-spot monitoring, traffic-sign recognition and reverse traffic detection. This last system detects any vehicles approaching while you're reversing out of a parking space or driveway. New to the pack for 2017 is an intelligent speed limiter, which uses the traffic-sign recognition software to 'read' the speed limit and adjust the car's speed limiter accordingly.
Also new for 2017 is a driver condition monitor, which can sense if you're tired and suggest you take a break, while the optional Drive Pro pack adds blind-spot assistance and lane-keep assistance, which will gently steer the car out of danger if you drift out of your lane on the motorway or go to make a lane change when there's a vehicle in your blind spot.
Exterior updates
There are only minor updates for the exterior styling, with a new Bright Pack being available with the Autobiography Dynamic trim level. This includes a silver front grille and bonnet meshing. Also available will be 19 new paint colours, including pearlescent, satin, high-gloss and metallic finishes.
Price & on-sale date
Orders for the 2017 Range Rover Sport will open later in 2016, with prices for the new entry-level four-cylinder diesel model starting at £59,700, although it'll only be available in the most basic HSE spec. Prices for the supercharged petrol V6 car will start at £64,400 – this engine is only available in HSE Dynamic trim.
Nissan Ariya vs Volvo XC40 vs Volkswagen ID.4 - which is best?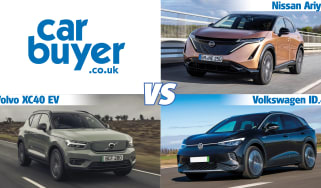 Nissan Ariya vs Volvo XC40 vs Volkswagen ID.4 - which is best?
2023 Hyundai Ioniq 5 N spotted testing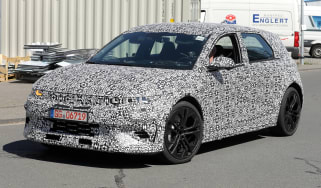 2023 Hyundai Ioniq 5 N spotted testing
Best new car deals 2022: this week's top car offers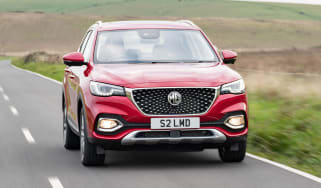 Best new car deals 2022: this week's top car offers