Watchdog: Dispute over BMW X3 money-back guarantee
Buyer returns BMW under 14-day distance selling rule but dealer says guarantee doesn't apply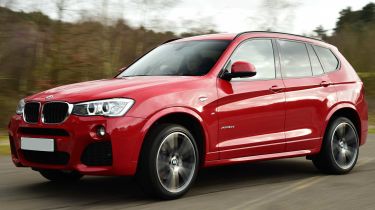 Buying a car over the phone, via e-mail, or even Twitter, is becoming increasingly easy to do. And as distance-selling rules give you a no-quibble, 14-day money back guarantee if you change your mind, it's arguably the safest way to buy, too.
But check your purchase actually qualifies before you sign on the dotted line. The criteria for a distance sale
 is quite strict, and only applies to contracts signed off-site, without
first seeing the goods, and
 with no face-to-face contact
 with the dealer at the time.
You should be able to enter into additional contracts at the dealership, however, such 
as a finance agreement – without it affecting your original distance selling rights, according to Citizens Advice; although that's not what reader Colin Page of Bracknell, Berks, was told, when he tried to return a brand new BMW X3.
Colin says the transaction was made entirely over the phone and via e-mail. And the dealer's digital contract, which he printed and signed at home, came with a Notification of Rights to Cancel, confirming he had 14 days to change his mind. However, when Colin did have second thoughts just eight days after collecting the X3, BMW Park Lane in London refused.
It argued his purchase wasn't
 the distance sale his paperwork had implied, referencing a previous visit
 to the dealer. Colin says this was to discuss trading in his old MINI for a used X3 – a deal that never happened – and complained his paperwork was misleading.
The dealer then blamed the finance agreement signed at the dealership when he collected his car, for removing its distance sale status. Colin said: "No one mentioned this at the time."He was referred to BMW Finance, which now owned the car. It confirmed Colin could cancel the hire purchase agreement, but would have to repay the full balance owed on his £38,000 X3 – money that he didn't have.
Instead, Colin decided to sell his
 X3 back to the dealer network. "I lost about £8,500, including my deposit, some installments already made and the car's depreciation," he told us.
What BMW Finance didn't explain until much later was that if Colin had cancelled his credit agreement in time, he could have still returned the car to the dealer, under its original contract to supply the car. We called BMW to complain this didn't happen, but it remains adamant Colin is not entitled to his money back because his contract was based on him paying for the car with his own funds, and as he decided to opt for finance, this contract was "never completed". Colin argues the deal was always going to be financed, and an e-mail sent from BMW Park Lane the day before he signed his contract confirms that. Auto Express has advised Colin he could and should now take this case to the small claims court to recoup his losses there.