Achieve the ultimate in efficiency with Renault's electric car range - sponsored
A Renault electric car can transform the way you drive, cutting costs, lowering your carbon footprint and making trips more relaxing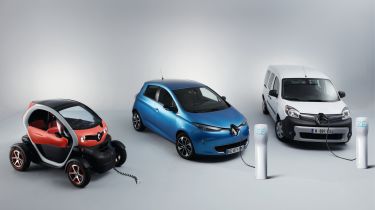 Imagine never stopping at a petrol station again, never worrying about fluctuating petrol prices, launching your fuel efficiency through the roof and slashing your car tax bill in the process. You can, and you can do it all while doing your bit to help local air quality and the environment as a whole.
Electric cars cast aside much of the undesirable baggage associated with running a car today and Renault's electric car range is the ideal way to access your greener, cheaper and more fuel efficient motoring future. From the compact Twizy city car and the Kangoo Z.E. commercial vehicle to the ZOE with its class-leading new 250-mile NEDC range (1), there are electric Renaults to suit a whole range of uses.
Renault at the forefront of UK electric car boom
The benefits of an electric car can be many and wide-ranging, as more and more motorists in the UK are finding out. Renault has been a standard bearer in the drive to promote the benefits of pure EVs and it's having considerable success. The Society of Motor Manufacturers and Traders (SMMT) are reporting sales of electric cars up 12.5% in the 12 months to June 2016. That's a total of 5,269 new all-electric cars arriving on UK roads in a year, taking the total past the 20,000 mark.
The all-important electric car charging infrastructure is growing too. According to Zap Map, there are now nearly 11,500 public charging points in the UK, a major rise from the total of around 8,000 available 12 months ago. The majority of these new charging points are the fast chargers that can replenish a Renault ZOE's battery to 80% in just 60 to 100 minutes, depending on the version.
This expanding charging point network comes in addition to the numerous EV charging facilities being installed at owners' homes and places of work. Renault ZOE retail customers with off-road parking can get a Homecharger fitted free by Chargemaster that can fully charge the ZOE's advanced new Z.E. 40 battery in 7 hours 30 minutes.
Many electric car owners never need to use a public charging point. They simply replenish their cars' batteries overnight at home when electricity tariffs are cheaper and have enough range to do all the driving they need to the following day.
If you still think an electric car isn't for you, just ask yourself the big question: how often do you drive 186 miles in a single day that would bring the Renault ZOE's new Z.E. 40 battery close to needing an additional top-up? Even in the cold winter weather, you'll still get 124 miles of real-world driving. If you do travel further regularly, increasing numbers of UK motorists are coming to view short charging breaks, while they have a coffee or browse the shops, as a welcome alternative to the higher fuel costs of running a petrol or diesel car.
The average cost of fully recharging a Renault ZOE at home overnight is just £3.50 (2). How's that for fuel economy?
Renault ZOE: ahead of the electric car field
The Renault ZOE is a trailblazer in the electric car segment. At launch in 2013 it became the first mass produced electric vehicle in the world with an NEDC driving range of over 130 miles, it debuted Renault's Chameleon Charger (™) that adapts to different levels of power charging and was the first car equipped with Michelin Energy E-V Tyres specially designed to boost efficiency in electric cars. With 2,000 units sold in 2015, it was also the second best-selling electric car in the UK.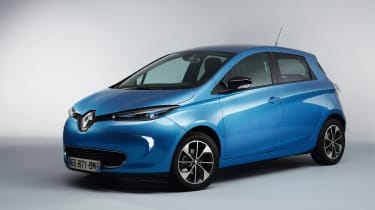 Today the ZOE has upped its game yet again and is available with an official NEDC (3) range of 250 miles thanks to Renault's new Z.E. 40 battery. That's the longest range of any mainstream electric car currently on sale.
The Renault ZOE is a modern electric car with the capacity to transform the fuel efficiency you achieve on the road, eliminate the need to pay VED 'road tax' or the London Congestion Charge and, if you choose one as a company car, slash your Benefit in Kind tax bill.
Yes, you can save big with an electric car, all the while driving a vehicle with zero harmful exhaust emissions. The overriding impression you get from behind the wheel of a Renault ZOE, however, isn't of the considerable on-paper benefits; it's of how well-designed, relaxing and fun to drive it is on the road.
Renault Twizy: efficiency for the city
The advantages of Renault's advanced EV technology are felt right from the affordable entry point to its electric car range. The Renault Twizy is a modern transport solution that's truly ahead of its time, mixing elements of car and motorcycle to create a unique, low cost all-electric vehicle design that excels in a busy urban setting.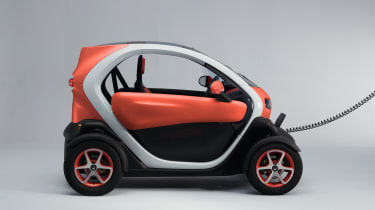 The two-seater, four-wheeler will get you noticed on the street with its funky, futuristic design but it's supremely practical. There's 40 litres of storage space that jumps to 180 litres if you opt for the single seat Twizy Cargo version, and you can fit three side-by-side in a standard parking space!
With a 3.5-hour charge from a standard domestic power supply, the Twizy is good to go with a 43-mile real-world range in summer, depending on driving conditions. Even compared to a motorcycle, running costs are ultra-low and like all Renault electric cars, the purchase price is made more affordable by and Renault's innovative EV battery hire scheme. It means you can save big on your transport costs even before the fuel savings kick in.
Race technology fuelling Renault EV development
Thanks to models like the ZOE and Twizy, the electric car message is taking root among UK motorists and Renault remains at the forefront in terms of the technology that's driving the market. Both the ZOE and the Twizy benefit from electric powertrains and lightweight design born out of technology developed by Renault for Formula One and Formula E competition.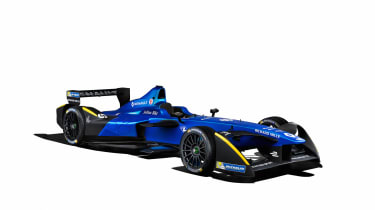 The advanced KERS kinetic energy recovery systems Renault created for F1 racers helps the brand's road-going EVs deliver maximum range and performance, while lightweight engineering honed in F1 is also present through the Renault EV line-up and beyond. The Formula E electric race series and the Renault e.dams electric race team serve as an on-going test bed for the next generation of Renault EV technology.
New technology to change your driving for the better
Electric cars have the power to transform the way you drive. The near silent electric powertrains on the Renault ZOE and Twizy deliver smooth yet powerful performance with acceleration instantly and effortlessly on tap. A lower centre of gravity than a petrol- or diesel-engined car lends itself to sharp changes of direction, so that urban driving becomes a breeze.
More than that though, it's the clever ways the ZOE and Twizy make you aware of the energy you're using that promote a more relaxed, efficient driving style. The Econometer display in the Twizy calculates your efficiency score in real time, giving drivers an eco-driving target to increase their range. It promotes good driving habits like gentle, progressive inputs on the controls, better awareness of surroundings and anticipation of situations evolving on the road ahead.
Conserving momentum becomes the focus instead of dashing from junction to junction, traffic light to traffic light. The net results are even better efficiency, improved safety and a more chilled-out state of mind when you reach your destination.
When the time does come to charge the Renault ZOE, its new Z.E. Trip function comes into its own. It maps over 80,000 public EV charging points across Europe showing each site's specifications and real-time availability. The information is accessed via the ZOE's R-LINK navigation system, which will direct the car straight to the most suitable charging facilities. Then, when you arrive, Renault's Z.E. Pass app (available in the UK from 2017) will help you pay for your battery charge simply on your smartphone or tablet.
Could you live with an electric car?
We've explored the ways that - driven by the latest technology - Renault electric cars deliver the ultimate in motoring efficiency. They make sense in terms of the lower costs and environmental benefits but also the more efficient way an electric car allows you to drive, use your time and live your life. With the charging infrastructure growing and the popularity of electric cars surging in the UK, the next step is up to you.
(1) ZOE R90 Z.E. 40: Homologated range according to NEDC test cycle, for comparison purposes, 250 miles, real world range will vary according to various factors including driving conditions, driving style, temperature and topography but is likely to be between 124 miles (winter conditions) and 186 miles in temperate conditions.
(2) £3.50 recharge cost - based on (a) overnight electricity charges (British Gas Off-Peaker Saver 3 rates for payment via direct debit as at May 2016), and (b) a range of 250/230 miles per full charge.
(3) *NEDC: New European Driving Cycle, The European standard for emissions and consumption, is a method for measuring fuel consumption based on identical tests carried out on all types of vehicles in Europe, whether they are internal combustion, electric, or hybrid. It is therefore an objective test for comparing performance between models of various manufactures but does not reflect real world range. There are two parts to the test. The vehicle is put on a roller bench and driven through the same urban cycle (cycle ECE-15) three times, followed by a single extra-urban cycle. The average of these four cycles gives the average NEDC range.
Top 10 best cheap-to-run cars 2022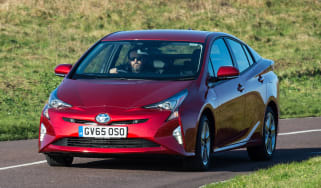 Top 10 best cheap-to-run cars 2022
UK road tax 2022: VED tax rates and bands explained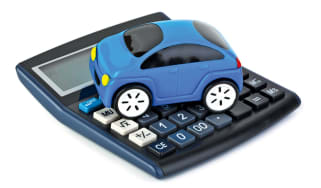 UK road tax 2022: VED tax rates and bands explained
Best new car deals 2022: this week's top car offers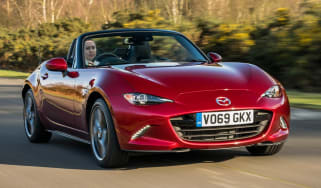 Best new car deals 2022: this week's top car offers