Jaguar I-Pace: prices, specs and release date
All-electric Jaguar I-Pace is available to order now
The all-electric Jaguar I-Pace, the British marque's first EV, is available to order now from £58,995.
The I-Pace is a rival to the Tesla Model S, with claimed performance a match for most Model S versions. The I-Pace's 90kWh (kiloWatt hour) battery and twin electric motors produce the equivalent of 395bhp, resulting in a 0-62mph sprint of just 4.5 seconds and an effective range of 298 miles.
Jaguar has also released a smartphone app to show potential buyers of the I-Pace how an electric car might fit into their lifestyle. Battery range is still a contentious subject among would-be electric car buyers, and Jaguar hopes that its 'GO I-PACE' app will give potential customers peace of mind.
The app is designed to run in the background on a smartphone, and uses location services to track journeys made by the phone's owner. Combined with data on fuel prices and electricity costs from accredited data sources, the app will show whether an I-Pace could lead its driver to a financial saving by analysing journeys made over a period of time.
Best electric cars you can buy today
To ensure the journeys made are relevant, the app is claimed to distinguish between different modes of transport, and will prompt the user to confirm – for example, on a journey by bike – when a the car isn't being used. The app is available to download, free of charge, via i-Tunes and is compatible with the iOS operating system only.
Jaguar I-Pace design and specifications
The new I-Pace sits somewhere between a large hatchback and a traditional SUV in its form factor; there's a long wheelbase (in order to fit the car's batteries), which means that despite being slightly smaller all-round than the F-Pace SUV, there's actually significantly more interior space in the I-Pace. Jaguar claims there's as much rear legroom as you'll find in a BMW 7 Series luxury saloon. The car is built from aluminium to keep weight down and offers 50:50 weight distribution for better handling, with power sent to all four wheels.
Jaguar has revealed that the I-Pace –named 2018 Car Of The Year by our sister title Auto Express – can be charged to 80% battery capacity in just 40 minutes using a DC 100kW charger. This should take the edge off range anxiety, while the same 80% charge is said to take 10 hours using a 7kW domestic wall box.
The I-Pace's rakish design isn't just for show: it's been shaped for aerodynamic efficiency, as has its low bonnet, considered roof design, curved rear window and squared-off rear end attest. The large grille features active 'vanes' that can open to provide cooling, or close to send air through the bonnet scoop to optimise the flow of air.
Clever design has freed up impressive interior space: there's 890mm of rear legroom (along with a flat floor thanks to the lack of a transmission tunnel) and a 656-litre boot that can be extended to 1,453 litres by folding the seats down. There's also dedicated laptop and tablet storage under the rear seats.
The I-Pace's interior boasts a stylish design that incorporates modern, quality materials (including the option of a sustainable textile rather than leather) and a clean, uncluttered look. The centre console is dominated by Jaguar's latest 'Touch Duo Pro' infotainment system, which uses two screens and an array of touch-sensitive controls.
The infotainment system includes a sophisticated sat-nav system that gives accurate electric range predictions by assessing topography and previous driving behaviour, along with 'Smart Settings' technology that uses artificial intelligence to match the car's settings to driver preferences. Amazon Electra connectivity and Tesla-style over-the-air updates also feature.
An optional full-length sunroof is available. Along with the car's windows, this absorbs infrared light to keep the interior cool.
Jaguar I-Pace price and availability
The Jaguar I-Pace is available to order now in S, SE, HSE and First Edition trims, with prices starting from £58,995 once the UK Government's £4,500 plug-in vehicle grant is taken into account. Order books are now open. All versions come with an eight-year battery warranty (limited to 100,000 miles or 70% health), along with a three-year/unlimited-mileage warranty for the whole car. Service intervals are set at 21,000 miles or two years.
Speed awareness course: how much does it cost, how long does it take and how do you do one online?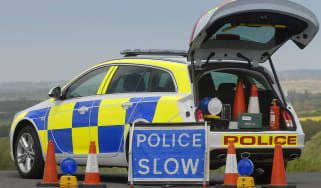 Speed awareness course: how much does it cost, how long does it take and how do you do one online?
New car delivery times: how long will you have to wait?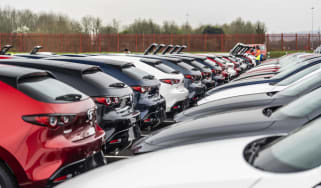 New car delivery times: how long will you have to wait?
Best new car deals 2022: this week's top car offers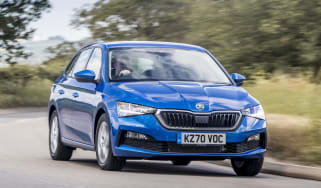 Best new car deals 2022: this week's top car offers