New Kia Stinger: prices, specs and release date
Kia Stinger on sale now and priced from £31,995; deliveries start in January 2018
The tapered, low and fast Kia Stinger – a new four-door-coupe grand tourer – is available to order now, priced from £31,995. Deliveries start on 1 January, 2018.
There are three engines on offer. That starting figure is for a GT-Line model powered by a 244bhp 2.0-litre petrol; a 197bhp 2.2-litre diesel is also available in GT-Line spec from £33,595, while the 365bhp GT-S model sits at the top of the Stinger range. The GT-S uses a twin-turbo 3.3-litre V6 petrol engine and takes just 4.7 seconds to go from 0-62mph. All cars come with an eight-speed automatic gearbox.
The Stinger is a bold new step for Kia; the company itself admits it's best known as "a value-driven brand mainly concerned with durability and practicality", so the Stinger represents a move into new territory. Not only is it the first rear-wheel drive car sold by the Korean company in the UK, it's also the first Kia model that attempts to compete directly with more upmarket cars, namely sleek four-door coupes such as the BMW 4 Series Gran Coupe and Audi A5 Sportback.
While the Stinger has a lower starting price than both its BMW and Audi rivals, the difference is only around £1,000. But while the entry-level 4 Series Gran Coupe comes with a 181bhp petrol engine and the cheapest A5 Sportback features a 148bhp 2.0-litre diesel, the most affordable Stinger has a more powerful 244bhp 2.0-litre petrol engine.
We've driven the new Kia Stinger – read our review here.
Kia Stinger: trim levels and equipment
There are three trim levels to choose from: GT-Line, GT-Line S and GT-S. Even entry-level GT Line cars are well equipped: 18-inch alloys, leather seats (eight-way power-adjustable and heated at the front) and an eight-inch infotainment system with sat nav, DAB radio, Apple CarPlay and Android Auto connectivity, plus a head-up display, are all standard.
GT-Line cars add ventilated front and heated rear seats, a 360-degree parking camera system, a 15-speaker Harman Kardon sound system, wireless phone charging and a host of added active safety systems. All cars get autonomous emergency braking (AEB) and an active bonnet (which pops up to protect pedestrians from hard engine components in the event of a collision).
The Stinger comes with several standard protective systems, too: autonomous emergency braking, adaptive cruise control, lane keeping assistance, speed limit recognition, a fatigue warning feature are fitted to all cars.
Step up to the range-topping GT-S and along with a 365bhp 3.3-litre V6 petrol engine, buyers get 19-inch alloy wheels and Nappa leather trim, but the biggest changes come under the skin; the GT-S' suspension, throttle response and steering are adjustable via five driving modes to help adjust the car's behaviour and character to the conditions at hand.
New Kia Stinger: design
One of the Stinger's key architects – Albert Biermann – was hired from BMW's prestigious M performance division. Biermann, whose reputation for potent and respected rear-wheel-drive cars precedes him, was in charge of the Stinger's handling, so we can reasonably expect it to offer an engaging experience on the road.
The Stinger's styling team, meanwhile, was headed up by Peter Schreyer, one of the key players behind the original Audi TT. Schreyer's team has ensured the Stinger's performance clout is immediately obvious. A wide, low, muscular front end is dominated by a pair of sizeable air intakes either side of the bumper, bolstered by two bonnet vents and a further brace of intakes behind the front wheels. According to Kia, all of this styling "is there to aid aerodynamics and ensure the car remains stable at the high speeds it is capable of".
The Stinger's fastback shape calls to mind other saloon/coupe blends like the Mercedes CLS and Audi A7, with Kia saying it's been designed to have an air of "elegance and athleticism".
The company's trademark 'tiger nose' grille sits proudly at the front flanked by LED headlights, while quad exhaust pipes and an integrated rear diffuser at the Stinger's tail further cement the car's performance credentials.
Inside, three prominent, turbine-like air vents and a large touchscreen dominate proceedings, with physical buttons for the infotainment and climate control resting below these.
The driver sits low inside the Stinger, facing a leather steering wheel and dashboard display that comprises analogue dials either side of a colour LCD screen. Kia says this last item can display G-forces and lap times, as well as more day-to-day information about oil temperature, fuel economy, route guidance and the like
The new Kia Stinger is one of the more important cars the South Korean brand has ever made. By building a no-holds-barred performance machine – albeit one with a sensible number of doors and "spacious accommodation" – Kia is aiming to move upmarket in terms of overall brand perception, and also prove it's adept at engineering bona-fide sports cars.
Engines
Aside from the range-topping GT-S model, Stinger customers get to choose from two engines. The entry-level 2.0-litre petrol engine has 244bhp, pushing the Stinger to 60mph in 5.8 seconds and to a top speed of 149mph. The four-cylinder petrol engine emits 181g/km of CO2 and returns an average of 35.8mpg.
The 2.2-litre diesel model produces 197bhp, gets the Stinger from 0-60mph in 7.3 seconds and gives the car a 143mph top speed. While these numbers aren't as impressive as less expensive petrol model, its improved low-down power is likely to make it feel faster in real world driving. CO2 emissions drop to 147g/km, while economy is best-in-range at 50.4mpg on average.
The Stinger GT-S comes with a twin-turbo 365bhp 3.3-litre V6, which is enough for 0-62mph in just 4.7 seconds and a top speed of 168mph. CO2 emissions of 225g/km and average economy of 28.5mpg are the payoff for such impressive performance, though.
All Stingers come with a mechanical limited-slip differential, which optimises grip when cornering, helping the car put its power down more effectively. Adjustable suspension is also included with the GT-S model, while all cars come with a driving mode selector, allowing drivers to select from Personal, Eco, Sport, Comfort or Smart driving modes. The Stinger's torque vectoring system, meanwhile, can apply power to and brake individual wheels depending on driver inputs and available grip.
An all-electric Stinger is also potentially in the pipeline – Kia says the car has been engineered with petrol, diesel and electric propulsion in mind.
Kia Stinger price & on-sale date
The Kia Stinger is available to order now, with deliveries starting from 1 January 2018, priced from £31,995 for the 2.0-litre petrol model in GT-Line spec, or £35,495 in GT-Line S trim. The 2.2-litre diesel model starts at £33,595 in GT-Line spec, climbing to £37,095 for the GT-Line S model. The range-topping high-performance GT-S model starts at £40,495.
Updated Peugeot 5008 starts at £29,585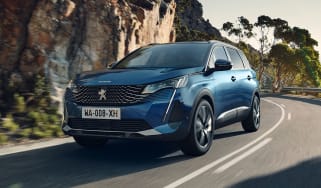 Updated Peugeot 5008 starts at £29,585
Cupra Formentor SUV review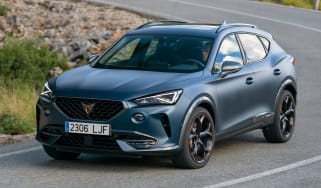 Cupra Formentor SUV review
2020 Volkswagen ID.3 hatchback: base model starts at under £30k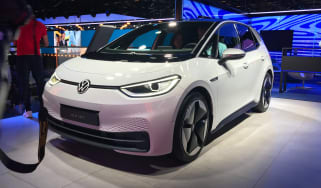 2020 Volkswagen ID.3 hatchback: base model starts at under £30k