Autonomous fleet of BMWs set for the road in 2017
Partnership between BMW, Intel and Mobileye develops 'scalable' autonomous technology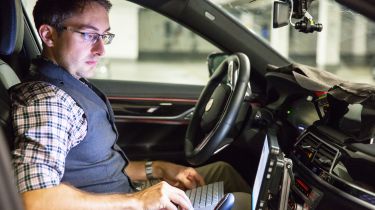 BMW, in partnership with Intel and Mobileye, will have 40 autonomous test vehicles on the road later this year.
The three companies began working together in the summer of 2016 and since then have developed an autonomous driving technology that's ready to be tested in cars, including the BMW 7 Series, this year.
BMW says the technology is a 'scalable architecture', which is significant because it means other manufacturers and technology firms will be able to buy certain parts for their own autonomous systems, or a complete version if they wish.
While testing will start this year, a fully autonomous BMW won't hit the road until the turn of the next decade. Klaus Fröhlich, member of the board of management for development at BMW, said: "This year, our fleet of vehicles will already test this joint technology globally under real traffic conditions. This is a significant step towards the introduction of the BMW iNEXT in 2021, which will be the BMW Group's first fully autonomous vehicle."
The partnership between the three companies brings together Intel's expertise in computer processing, Mobileye's vision processor and BMW's ability to integrate the technology with driving control and dynamics, and produce complete prototypes.
BMW will continue to work with Mobileye to develop a 'sensor fusion solution' that'll create a complete model of the environment around a car to go with a driving policy, which together will give it the information and intelligence to drive itself safely out on the open road.
The iNEXT will be the first fully autonomous BMW when it arrives in 2021 and is likely to exist as a showcase for the technology available on conventional BMW models. BMW says we can expect 'a range of highly automated models from all BMW Group brands' after the iNEXT has been launched.