Honda NeuV concept could sell energy back to the grid
Autonomous driving experience and ride-sharing technology also on show with NeuV
Carmakers are continuing to fathom where the future of driving lies. Following news that BMW is rolling out a fleet of self-driving test vehicles this year and Audi is to have a fully automated production car on the road by 2020, the NeuV sets out Honda's stall in the self-driving world.
The NeuV – which is pronounced 'new-v' and stands for New Electric Urban Vehicle – is, naturally, an automated concept car, but one that promises a highly communal experience.
Honda claims privately owned cars sit idle outside their owners' houses 96% of the time, so the NeuV has been designed to work as an automated ride-sharing vehicle, picking people up and dropping them off when it's not in use by its owner.
But as well as benefitting strangers, the NeuV could work for its owner when idle. The team behind the NeuV envisage it'll charge up its batteries overnight when energy tariffs are at their cheapest, selling unrequired energy back to the electricity provider during peak hours.
Other forward-thinking technology includes swivel-opening doors, a wraparound panoramic windscreen and an 'emotion engine'. This will become a personalised, automated assistant for the driver, learning their emotions and driving judgements and making "new choices and recommendations" for them on the basis of these assessments.
If that all sounds a bit Brave New World, there's one aspect of the NeuV that should have a more pragmatic appeal: its artificial intelligence system could allow the car to communicate with other vehicles on the road, planning journeys to mitigate congestion and avoid potential collisions. Based on the behaviour of shoals of fish, the Safe Swarm concept "enables vehicles to operate cooperatively, enabling more efficient, low-stress and, ultimately, collision-free mobility".
Inside, a full "touch panel interface" will allow the NeuV's two occupants to easily access infotainment and driving systems, while an electric skateboard should facilitate easy trips in areas where cars are prohibited.
That last item may seem curious, but it's not a million miles away from the electric scooter offered with the latest Peugeot 3008.
Nissan Ariya vs Volvo XC40 vs Volkswagen ID.4 - which is best?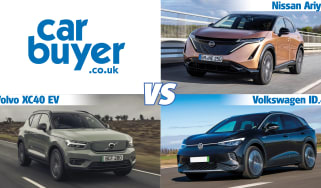 Nissan Ariya vs Volvo XC40 vs Volkswagen ID.4 - which is best?
Best new car deals 2022: this week's top car offers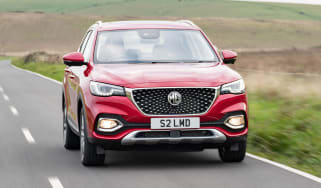 Best new car deals 2022: this week's top car offers
Kia Niro EV review