Smart online sales website launches
Motorists can buy a new Smart Fortwo or Forfour online at the click of a mouse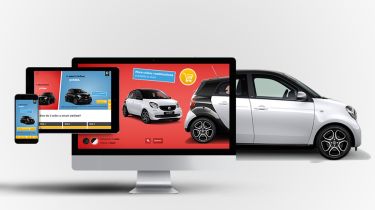 Smart has become the latest carmaker to sell cars online. A new website allows motorists looking for a Smart to complete a purchase quickly and simply, following similar moves from Tesla and Hyundai, while Citroen is poised to follow suit this year.
While Smart dealers will continue to offer the brand's cars in a wide range of trims and customisation options, smartcarsonline.co.uk only offers models based on the Prime trim level of the Smart Fortwo and Smart Forfour.
Customers create an account and can reserve a car online by placing a £250 holding deposit and completing a credit application. This will be completed within 48 hours and assuming it's successful, the customer is guided through the process. The car can be delivered to your home or dealer in as little as 12 days.
Three finance packages are available, allowing buyers to place a small, medium or large deposit. Monthly repayments are as low as £119.
A number of pre-configured models are available, with a choice of black or white body panels and a black tridion cell. All are based on the Prime model, which counts a panoramic glass roof, 15-inch alloy wheels, black leather seats and a seven-inch touchscreen with Bluetooth as standard features. The car is only available with the 71bhp engine when bought online.
Smart UK boss Krishan Bodhani said: "Almost anything can be bought online now and we're delighted to offer this option to our customers when purchasing their Smart. It's really easy to do and extremely time-efficient, enabling a customer to make a reservation, fill in a credit application and sign a contract at a time and place that works for them."