Complete online car sales launched by Peugeot
Configuration, finance, part-exchange and purchase offered by new website development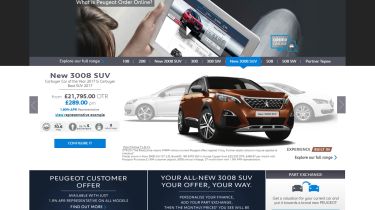 Would-be Peugeot owners can now configure and buy a new car online through a new service. The new section on Peugeot's website also allows customers to arrange finance and secure a valuation on their part-exchange.
Peugeot says 'Order Online by Peugeot' is the world's first fully comprehensive online car-buying process and the UK is the first country it has been offered in.
The move follows online sales launches from Hyundai, Smart and Tesla.
Customers can use the website's car configurator to choose the exact model, engine, gearbox and trim they want, and add a range of optional extras. The buyer is then presented with a finance quote, although this can be tailored to suit their circumstances by changing the size of the deposit, the length of the agreement and the annual mileage limit.
The buyer can choose to have the car delivered to their home or place of work for a small fee, or collect it from their local dealership for free.
Peugeot says the entire process can be completed in just 30 minutes and there's no need to visit a dealer to complete the necessary paperwork, which is unique in the market.
Peugeot's UK MD David Peel said: "The retail landscape in general has changed immeasurably over the last few years and we're not only proud to be the first car manufacturer to offer customers a truly end-to-end experience, but also honoured to be the first of Peugeot's markets to unveil the system.
"Traditionally, car buyers can find visiting a dealership daunting. With e-commerce by Peugeot, that pressure to make a decision is removed; the customer is in full control and can deliberate all they want over spec and finance decisions, change their minds and retrace their steps as many times as they wish.
"If, having browsed the model range, selected their car and found a finance package that works for them, customers want a test drive, they can still arrange this before committing to a purchase."
Order Online by Peugeot launched last week, and the first customer placed their order within 12 hours.