Watchdog: Cover confusion over approved used Ford
Buyer looking for clarification over what recovery package is included with his Focus ST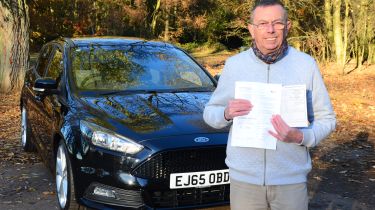 Buying from an approved used scheme not only provides peace of mind over the history of a vehicle, but the majority of manufacturers also offer extended warranty or breakdown cover with a purchase. However, what you get differs significantly between carmakers, so it pays to know exactly what comes as part of any scheme before you sign on the dotted line.
Brian Doran, from Romford, Essex, contacted us after reading the guide to approved used schemes in issue 1,440 of Carbuyer's sister publication Auto Express. He'd realised his Ford Focus ST – purchased in July 2016 from franchised dealer Lookers Colchester – should be covered for longer than he'd been told.
Brian said: "I purchased my new car under the Ford Direct scheme, and it was eight months old with just over 1,500 miles. Problem is, after three days, I phoned the salesman and asked what roadside recovery/breakdown service I had. I was told I had it until the car was a year old."
That meant Brian would be covered for only four months of ownership, despite the Ford Direct scheme offering two years' roadside and breakdown recovery on all purchases.
Brian contacted Lookers Colchester, but heard nothing back and was left uncertain about whether he would be covered. He told us: "I ask myself how many other customers like me have paid that extra premium on buying their used car from a franchised dealer for peace of mind, only to find out they have been shortchanged."
We asked Ford why the dealer could not offer the full approved package, and a spokesman told us Brian may not have bought the car through Ford Direct after all, despite stickers at the dealer suggesting he had. "There were three categories of used cars at the dealership – Lookers' own selection, Ford Approved (one year's roadside assistance) and Ford Direct (two years)," the spokesman explained.
However, Ford confirmed it would honour the longer cover. It said: "To be in the customer's best interests, this sale has now been treated and closed as Ford Direct."
Brian, who is now waiting for Lookers Colchester to finalise the deal, added: "Thank you for all your help and support."