New Aston Martin Vanquish S Volante uncovered
Vanquish S Volante gains upgraded exhaust and aero; V12 engine produces 27bhp more than standard Vanquish convertible
The new Aston Martin Vanquish S Volante has been unveiled and is now available to order – or, as Aston puts it, 'enquire' about.
Following in the footsteps of its coupe sibling, the S Volante is aimed at those who find the standard Vanquish Volante's 568bhp power output too meek. In addition to an extra 27bhp, the S Volante also features a raft of handling and aesthetic tweaks, while its asking price – when revealed – is expected to make it the most expensive model in Aston's stable.
Like the Vanquish S coupe, the convertible S Volante comes with a modified exhaust system to improve the car's performance and noise, as well as a recalibrated eight-speed automatic gearbox and retuned suspension.
Aston Martin Vanquish S Volante engine
At the heart of the Vanquish S Volante lies Aston's 6.0-litre V12 engine, tuned to produce 595bhp. Unlike the engine in the recently launched Aston Martin DB11 (which uses turbocharging to boost power and minimise fuel consumption and emissions), the S Volante does without turbos. No performance figures have been released yet, but as the S package shaves 0.3 seconds off the coupe's 0-62mph time, the S Volante should take 3.7 seconds to hit this benchmark. The standard Volante's top speed of 197mph is likely to be unchanged, but should suffice nonetheless.
Design
Aston is keen the S Volante's form follows its function, so in addition to the uprated engine, suspension, gearbox and exhaust system it's been "cloaked in a suit" of carbon-fibre. This material has been the doyen of supercars for some time now thanks to its high strength, low weight and F1 roots.
On the S Volante, a prominent carbon-fibre front 'splitter' juts out below the grille to help suck the car to the ground and improve grip. Out back, a carbon-fibre diffuser ensures air – the enemy of aerodynamics thanks to the friction and turbulence it generates – is sent packing with as much efficiency and as little disruption as possible.
More carbon can be added by specifying (and paying extra for) the bonnet air intakes and dashboard panel in this expensive material. Other S Volante goodies include new alloy wheel designs and 'S' emblems on the headrests.
Aston Martin Vanquish S Volante price & on-sale date
If it follows the pricing structure of the Vanquish S coupe, the new Aston Martin Vanquish S Volante should cost around £215,000 when prices are officially announced. Potential customers are likely to take that as an advisory figure, however, as Aston Martin's options list and bespoke 'Q' service provide for those with near-limitless budgets to customise the car to their taste.
Engine management light: top 5 causes of amber engine warning light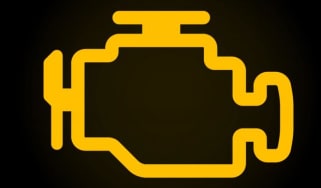 Engine management light: top 5 causes of amber engine warning light
Top 10 cheapest electric cars 2022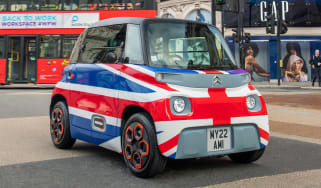 Top 10 cheapest electric cars 2022
Top 10 best electric SUVs 2022
Top 10 best electric SUVs 2022