New 2018 Audi A8: prices, specs and release date
Audi A8 introduces advanced autonomous tech, with prices starting at £69k
Audi has announced that the next-generation Audi A8 will start at £69,100 and that UK deliveries of the new luxury car will begin early in 2018.
The A8 is an important car for Audi – its flagship role puts it head-to-head with the BMW 7 Series and Mercedes S-Class, both of which are very highly regarded luxury saloons. The new A8 aims not merely to re-assert Audi's position in this rarefied part of the market, but also to leapfrog the competition with the very latest on-board technology.
Among the most sophisticated attributes of the A8 is its autonomous driving technology. Although full 'level 5' autonomy isn't yet ready for the road, the A8 provides fascinating glimpses of just what is possible – it'll even drive itself to an overnight parking spot when you've stepped out at the end of your journey, a feature dubbed 'AI parking pilot'.
This is joined by 'traffic jam pilot', which enables the A8 to drive itself at speeds of up to 37.3mph. However, this 'level 3' autonomy faces a delay before it's legal on the roads of every country. To help owners make best use of the technology, Audi plans to enable it on a country-specific basis. What's more, the A8 could use 'geofencing' to determine which level of autonomous functionality is allowed where it's being driven, according to local laws.
All this technology is supported by the A8's 48-volt electrical system, which underpins not only the car's safety and convenience features, but also its engine. It provides the power for mild hybrid electric vehicle (MHEV) technology, enabling the A8 to coast for short periods with the engine switched off before restarting when acceleration is required.
New Audi A8 styling
The new A8 is unmistakably an Audi, and one that represents a relatively cautious, evolutionary approach in terms of aesthetics – at least on initial inspection.
Look closer and you'll spot fresh design cues, though: Audi's trademark 'singleframe' grille is wider and more upright than it was on the outgoing A8, while the LED headlights take a sharper, more angular profile, cutting into both the bonnet and the front wings.
Those headlamps are emblematic of the sort of technology offered in the latest A8, featuring laser light elements and matrix technology, meaning they can illuminate specific portions of the road with full beam brightness, without dazzling oncoming traffic.
The rear lights are similarly advanced. Running the full width of the car and using OLED (organic light emitting diode) technology similar to that of a mobile phone screen, the rear light strip displays an animated sequence when you lock or unlock the car.
Although the outline of the latest A8 seems familiar, the roofline is more curvaceous, while the shoulders are raised, giving the wheels greater emphasis under subtly flared wheelarches. The doors are more deeply sculpted than before, too – concave lower surfaces catch the light and emphasise the Audi's length.
Interior
The greatest changes to the new A8 are arguably to be found inside. Audi's aim when designing the A8's interior space was to create a lounge-like atmosphere, and it's claimed that passengers have far more space in which to relax than previously offered.
Most luxurious of all is the rear right seat (rear left on right-hand-drive cars). In this seat, chauffeured passengers can not only recline, but enjoy the luxury of a footrest that can massage and heat the soles of their feet. While relaxing, a smartphone-sized rear seat remote enables control of infotainment, ambient lighting and the seat massage settings.
Compared to the previous A8, the driver faces an absence of conventional buttons, and the previous rotary controller is nowhere to be seen. Touchscreen displays have taken over; the the most prominent is a 10.1-inch screen only visible when the car is running that otherwise blends in with its gloss-black surround.
Opening one of the doors brings the main display to life, while a second, lower screen operates climate and comfort features and allows text to be input to the infotainment system. Haptic feedback is provided to confirm that a command has been accepted, and a variety of touch and swipe gestures can be interpreted. Audi claims that this latest MMI system is intuitive and quick to use.
Intriguingly, the A8 is claimed to be capable of 'intelligent conversation'. The MMI interface uses a new generation of 'natural' voice control, meaning you need not stick to a strict list of verbal instructions. When you issue a command, the A8's on-board memory is consulted first, with data sought from the cloud if required.
The A8's sat-nav system is capable of learning routes as they're driven, rather than relying on information from a database. Using 'car-to-X' services, it can also draw information, such as traffic density and hazard information, from other connected Audis that form an intelligent 'swarm'.
Technology
The big technological headline for the new Audi A8 is its advanced autonomous driving technology. Audi claims that it's the "first production automobile to have been developed specially for highly automated driving".
Among the systems on offer is Audi AI traffic-jam pilot, which can take full control of starting, accelerating, braking and stopping in slow-moving traffic. This is possible at speeds up to 37.3mph – but only on roads such as dual-carriageways and motorways where the two traffic directions are divided by physical barriers.
In order to recognise its surroundings when driving in autonomous mode, data from all the A8's cameras, radar, ultrasonic sensors and laser scanner are combined to form an image of the road and traffic conditions.
When traffic-jam pilot is in command, the driver no longer needs to monitor the car permanently. Hands can be removed from the wheel, and where local traffic rules allow, they're free to use other in-car technology such as watching TV or using social media, until the system reaches its limit. At that point, a visual and acoustic reminder tells the driver to retake control.
This autonomous technology won't be fully enabled at launch until it has been approved for use in each worldwide market. The extent of autonomous operation and driver disengagement will depend on local statutes; Audi says that it'll introduce traffic-jam pilot step-by-step after the A8 goes on sale.
Other autonomous technology, such as AI remote parking pilot, will become available faster, though. As demonstrated by an Audi teaser video, the system allows the A8 to independently maneuver into a garage or parking space, without a driver in the car. The parking command is issued via Audi's myAudi smartphone app, and can be monitored via the smartphone screen, with images from the car's 360-degree cameras. The car engages park and the engine and ignition are switched off when the maneuver is complete.
As well as for autonomy, connected tech is used to provide claimed improvements in passenger comfort. Camera footage of the road ahead is used to alert the suspension control units to upcoming bumps, so the dampers can be ready to adjust for imperfections in the road surface in advance of them being encountered. A 1,920-watt 23-speaker Bang & Olufsen stereo is also offered, which promises 3D surround sound top quality audio for those who specify it.
Similar active suspension technology has been offered by the rival Mercedes S-Class before, but the Audi also uses it to increase safety, lifting the car by up to 80mm in a side impact to ensure that the strongest part of the car takes the brunt of the force.
Engines
The Audi A8's advanced autonomy is supported by a sophisticated new electrical system, which also heralds the arrival of new engine technology for Audi's flagship.
Like the latest Audi Q7 SUV, the A8 uses a 48-volt electrical supply, with a belt alternator starter (BAS) at its heart. It enables the car to coast with the engine switched off, restarting when power is needed. It's claimed that contributes a significant step beyond existing stop-start technology, bringing a fuel saving of 0.7 litres per 100 kilometres (62 miles) driven.
A plug-in hybrid A8 L e-tron quattro will follow later, using a 3.0-litre TFSI petrol engine combined with an electric motor for 443bhp in total. Supported by a lithium-ion battery, the hybrid is claimed to be capable of driving just over 31 miles on electric power alone. A new wireless charging system will be offered, too, allowing the car to take power from a floor-mounted pad.
Pricing and on-sale date
The Audi A8 is available to order now. Prices start at £69,100, although exact model prices have yet to be confirmed. UK deliveries will commence early in 2018.
Top 3 used luxury SUVs for £45,000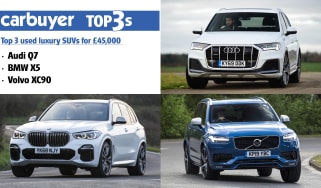 Top 3 used luxury SUVs for £45,000
2020 Audi SQ7 and SQ8 return to petrol power with 500bhp V8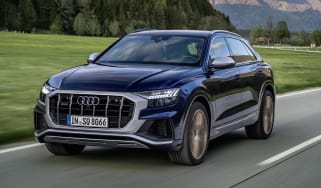 2020 Audi SQ7 and SQ8 return to petrol power with 500bhp V8
Updated Peugeot 5008 starts at £29,585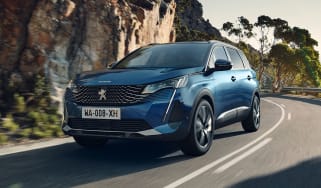 Updated Peugeot 5008 starts at £29,585
Cupra Formentor SUV review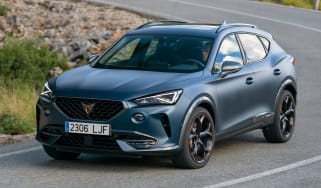 Cupra Formentor SUV review
2020 Volkswagen ID.3 hatchback: base model starts at under £30k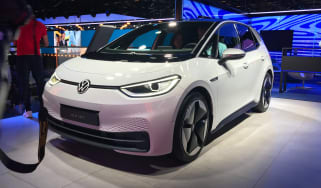 2020 Volkswagen ID.3 hatchback: base model starts at under £30k