697bhp Jeep Cherokee Trackhawk is UK-bound
Hellcat-powered Jeep claims 'fastest SUV' tag
The blisteringly quick Jeep Grand Cherokee is coming to the UK, an impromptu announcement at the Los Angeles Motor Show has confirmed.
First revealed at the 2017 New York Motor Show, the Trackhawk immediately grabbed headlines for its sheer power and speed. It shares an engine with the Dodge Charger and Challenger Hellcat models, which means 6.2 litres of V8 muscle, producing some 697bhp allied to monstrous pulling power.
A marked step up in performance from the already-rapid 468bhp Grand Cherokee SRT, the Trackhawk is claimed to achieve 180mph flat out and will reach 62mph just 3.4 seconds after launch. This makes it quicker than even the Bentley Bentayga – a point more relevant now the Trackhawk is known to be heading to the UK.
The announcement wasn't made in quite the manner Jeep might have liked, though – when head of the Jeep brand Mike Manley was asked at the LA Motor Show by Carbuyer whether the Trackhawk was destined for these shores, he said: "Yes – it seems like I've just confirmed it!".
When it arrives, it's expected to don the fastest SUV crown, being comfortably faster than the Audi SQ7 and BMW X5 M. In fact, few cars of any description are faster – even a Tesla Model S P100D is less than a second quicker to 62mph when 'ludicrous' mode is engaged. The Bentayga W12 should eclipse the Jeep's top speed, though – the British machine is said to hit 187mph flat out.
The Trackhawk's supercharged V8 engine comes directly from the Dodge Charger and Challenger Hellcats – ultra high-octane versions of the Jeep sister brand's coupe and saloon. The air-hungry nature of this engine's supercharger means the Challenger Hellcat sacrifices a headlight for a cold-air intake, but
Externally, the Cherokee Trackhawk is expected to wear a unique set of alloy wheels and will likely bear a bodykit that distinguishes it from less extreme models in the range. An interesting technical point is addressed by the absence of front foglamps – there are intakes in their place to satisfy the supercharged V8 engine's appetite for air. Quad exhaust pipes and a swollen bonnet also serve to hint at the power that lurks under the metal.
The Trackhawk will employ an eight-speed automatic gearbox and offers a driving mode selector with sport, track, tow, snow and custom settings. There's also the obligatory launch-control system, backed up by the largest brakes ever fitted to a Jeep, while driver support systems include lane-departure warning, active cruise control and blind-spot monitoring. Inside, Napa leather seats should provide the requisite level of luxury, while a data logger will allow owners to keep a record of their lap times when they venture to a racetrack.
It's likely that the Cherokee Trackhawk will arrive in UK showrooms at some point during 2018, but an exact date has yet to be announced – nor has its price been confirmed.
Best new car deals 2022: this week's top car offers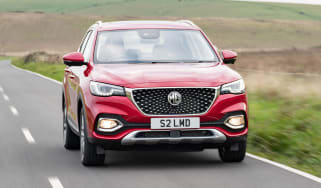 Best new car deals 2022: this week's top car offers
Top 10 best electric family cars 2022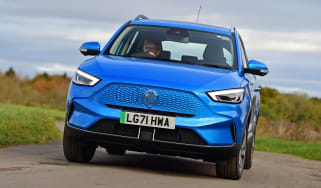 Top 10 best electric family cars 2022
Kia EV4 SUV to take on the Volvo XC40 Recharge
Kia EV4 SUV to take on the Volvo XC40 Recharge