Nissan X-Trail gets drone option pack
Drone-equipped X-Trail X-Scape can capture your holiday highs on camera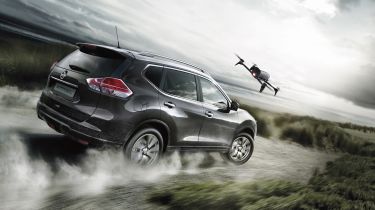 Nissan has announced a limited run of 200 option packs for the X-Trail SUV that equip the car with an autonomous video-recording drone. The 'X-Scape' package includes the 500g craft, which can reach speeds of almost 35mph in level flight and can remain airborne for up to 25 minutes.
Launching takes a single button press and once up, the drone can track your movements using a built-in 'follow me' GPS system. Its speed and stability means it can capture video whether you're walking, cycling, kayaking or simply taking in the view.
The Nissan-branded drone is a Parrot Bebop 2. Together with the included Parrot 'Cockpitglasses' headset, it allows you to watch and record a live feed from its 14-megapixel camera. The drone can be operated using a Parrot Skycontroller 2 remote control and comes with a handy backpack carry case.
The X-Scape pack can be ordered with any Nissan X-Trail in N-Vision or Tekna trim, both of which also have sat nav, a panoramic sunroof and roof rails as standard. The drone pack is available now and costs £500, but you'll have to act fast, as only 200 have been allocated to the UK market.
Manufacturers have been offering increasingly eclectic and unusual accessories with cars recently, with MINI's folding tent for the Clubman being another example.