Refreshed MINI models on sale this March
MINI 3-Door, 5-Door and Convertible models improved for 2018
MINI has updated the core models in its range for 2018 as part of a facelift with a focus on modern technology and connectivity features. The new MINI 3-Door Hatch, 5-Door Hatch and Convertible go on sale on 17 March, 2018.
New MINI design
There aren't many styling changes for the 2018 model, but those that have been made are noticable. LED lights are standard front and rear and get new looks as a result; those at the rear cleverly integrate a Union Jack motif.
The option to have custom trim pieces 3D-printed and/or laser-engraved to your specifications is a clever touch; these include the side scuttles, decorative interior strips on the passenger side, LED door finishers and even LED door projectors. A dedicated online shop will launch later this year to deliver the service – you'll be able to choose from different colours, patterns, surface structures and icons and even add your own custom text.
Three new exterior colours are on offer: Emerald Grey, Starlight Blue and Solaris Orange, all of which are metallic finishes. New alloy wheel designs have also been added.
The revised MINI models also feature an all-new badge, featuring a simplified version of the existing MINI logo. MINI says that its simpler new logo reflects the brand's "focus on the essentials – namely key values such as driving fun, distinctive design, premium quality and emotional appeal".
Interior
Personalisation has always been a MINI strong point and the new model continues the trend inside, where there are more trim and lighting options to choose from than before. Malt Brown leather is added as an option, along with a wide selection of seat, interior and 'colour line' finishes.
MINI has also added what it calls the MINI Yours Interior in Piano Black option. This brings black trim to the doors and centre console, along with a backlit decorative Union Jack strip for the passenger side of the instrument binnacle that matches the interior ambient lighting, itself selectable as part of the MINI Excitement Package.
Other touches include a new three-spoke wheels with wheel-mounted controls, along with a new 6.5-inch infotainment screen with mobile phone Bluetooth integration. A new, larger 8.8-inch system with improved sat nav is also on offer.
New automatic gearbox
Significant under-the-skin changes have been made to the MINI for 2018. The car's diesel and petrol engines have been fettled to improve driving fun, while a new seven-speed dual-clutch automatic gearbox has been added as an option on One, Cooper, Cooper S an Cooper D models.
MINI claims that the new gearbox brings "very fast gearshifts" and "sporty acceleration". The gearbox is operated with a selector lever and allows the car to coast to save fuel if set to 'MID' or 'GREEN' mode. The gearbox also works in tandem with the latest of stop/start technology, which uses sat nav data to best decide when to turn off the engine.
Engines
The 3-Door Hatch gets the broadest engine range, with four petrol engines and one diesel to choose from. The entry-level MINI One gets a 1.5-litre three-cylinder engine (with slightly larger displacement than before) that produces 102hp, manages 0-62mph in 9.2 seconds and returns 57.6mpg on average with a manual gearbox, or 58.9mpg with an automatic. CO2 emissions range from 109 to 118g/km depending on gearbox and wheel size.
The Cooper model steps up to a 136bhp version of the same engine; with a manual gearbox, 0-62mph takes 7.9 seconds, 56.5mpg on average is claimed and CO2 emissions as low as 109g/km can be achieved with the smallest wheels and an automatic gearbox. Top speed is 130mph.
The Cooper S adds a 2.0-litre petrol engine with 192hp, which means a 0-62mph sprint in 6.8 seconds and a top speed of 146mph with a manual gearbox. Fuel consumption drops to 42.8mpg for the manual, while CO2 emissions sit at 150g/km.
Enthusiasts will welcome the return of the top-spec John Cooper Works model, which in 3-Door form will do 0-62mph in just 6.3 seconds with a manual gearbox and power on to a top speed of 153mph. Fuel economy of 42.8mpg and CO2 emissions of 150g/km are the tradeoffs, but choosing the new automatic gearbox significantly improves those figures, while dropping the 0-62mph time to 6.1 seconds.
If economy is priority, the MINI model of choice is still the Cooper D, which uses a 1.5-litre diesel engine and returns a claimed economy figure of 3.9 litres per 100km – around 72mpg – with a manual gearbox. CO2 emissions are as low as 99g/km if you choose the smallest wheels and an automatic gearbox.
The 5-Door model gets the same engine choices save for the John Cooper Works, which is limited to 3-Door and Convertible models only. Performance, economy and emissions figures for each 5-Door model are slightly worse than their respective 3-Door equivalents thanks to some extra weight – and it's a similar story with the Convertible, which is available in Cooper, Cooper S and John Cooper Works spec only.
Kia EV4 SUV to take on the Volvo XC40 Recharge
Kia EV4 SUV to take on the Volvo XC40 Recharge
Best new car deals 2022: this week's top car offers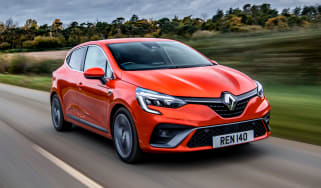 Best new car deals 2022: this week's top car offers
New electric MG4 hatch to start at £25,995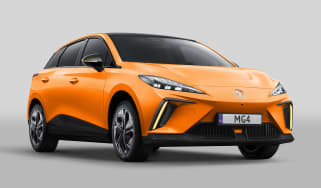 New electric MG4 hatch to start at £25,995