Ford launches scrappage scheme for older petrols and diesels
Incentives of at least £2,000 will be offered; all trade-ins will be scrapped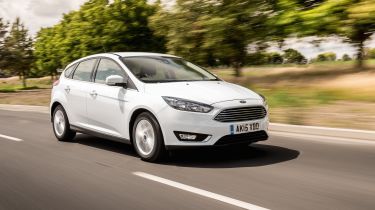 Ford has announced a scrappage scheme for older petrol and diesel cars and vans, offering up to £7,000 in trade-in allowances and incentives to owners of pre-Euro 5 vehicles (registered before 31 December 2009) trading in for one of the latest Euro 6-compliant models in Ford's range.
Unlike other trade-in schemes for older cars recently announced by BMW and Mercedes, Ford says it will be scrapping all cars taken in by its dealers under this scheme. Ford's scheme is also the only one so far to apply to commercial vehicles as well as passenger cars.
Depending on the exact model being purchased, the incentive on offer will be between £2,000 and £4,950. The full range of incentives is as follows:
| | | |
| --- | --- | --- |
| Model | Series | Car Scrappage Saving incl VAT |
| All-New Fiesta | (excl. Style) | £2,000 |
| B-MAX | (excl. Zetec) | £3,500 |
| Focus | Style, Zetec, Zetec Edition, ST-Line (incl. Colour Editions), ST-Line X | £4,450 |
| Focus | Titanium, Titanium X | £4,950 |
| C-MAX & Grand C-MAX | Zetec | £4,200 |
| C-MAX & Grand C-MAX | Titanium, Titanium X | £4,700 |
| Kuga | Petrol – Zetec, Titanium, Titanium X, Vignale | £4,350 |
| | Petrol – ST-Line, ST-Line X | £3,850 |
| | Diesel – Zetec, Titanium, Titanium X, Vignale | £4,850 |
| | Diesel - ST-Line, ST-Line X | £4,350 |
Commenting on the programme, Andy Barratt, chairman and managing director of Ford in Britain, said: "Ford shares society's concerns over air quality. Removing generations of the most polluting vehicles will have the most immediate positive effect on air quality, and this Ford scrappage scheme aims to do just that.
"We don't believe incentivising sales of new cars goes far enough and we will ensure that all trade-in vehicles are scrapped. Acting together we can take hundreds of thousands of the dirtiest cars off our roads and out of our cities."
Quoting data from the Society of Motor Manufacturers and Traders (SMMT), Ford says there are still 19.3 million pre-Euro 5 vehicles on UK roads, and estimates that reducing them (by an unspecified amount) through scrappage programmes could reduce CO2 emissions by 15 millions tons a year.
The Ford scheme will run until the end of 2017, applying to new cars registered from 1 September to 31 December. Vehicles being traded in must have been registered in the customer's name for at least 90 days.