Mitsubishi supermini set to rival Ford Fiesta
Mitsubishi is set to capitalise on its Renault-Nissan alliance with a Clio-based supermini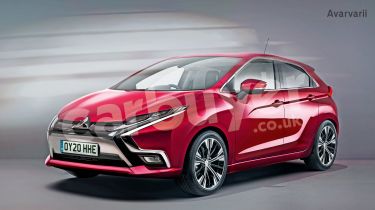 Mitsubishi is poised to launch a new supermini to rival the Ford Fiesta and SEAT Ibiza, and replacing the ageing Mitsubishi Mirage.
The Japanese brand is now a member of the Renault-Nissan Alliance, so the new car would share its underpinnings and engines with the upcoming next-generation Renault Clio and Nissan Micra. Our exclusive image previews how it could look as a result.
Speaking to Carbuyer at the Tokyo Motor Show, Vincent Cobee, Mitsubishi's product planning boss and corporate vice-president, said: "Designing and building a bespoke platform is expensive and the margins in the small-car sector are smaller. So are we looking to use Renault and Nissan platforms in that segment? The answer is yes."
Formerly at Nissan, Cobee joined Mitsubishi when the former bought a 34% stake in the latter. Since then, he's also disclosed that launching SUVs, including the next Mitsubishi Outlander is an "immediate priority", but that "30% of global demand" is for superminis and it would be "extremely hard" for the company to hit emissions targets without a smaller model.
The current Mitsubishi line-up includes the Mirage supermini, the ASX, Eclipse Cross, Outlander and Shogun SUVs, and the L200 pickup.
Expected in 2018, the next-generation Renault Clio will be all-new, with a low-CO2 three-cylinder turbocharged petrol engine that Mitsubishi could borrow, along with the platform.
It's also possible an all-electric version could be on the cards, thanks to confirmation from Mitsubishi UK's current boss Lance Bradley, that the Mirage replacement would include a zero-emissions version. It's not yet confirmed that the name Mirage will be kept on in Britain; Mitsubishi could rekindle the Colt name from the supermini that went out of production in 2013.