Tesla launches Chill Mode update
Chill Mode update gives Tesla owners the option of gentler acceleration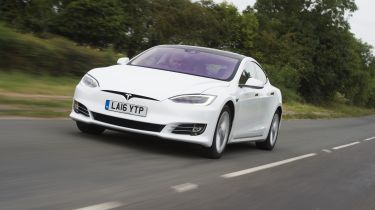 Electric vehicle manufacturer Tesla has added 'Chill Mode' to its Model S and Model X in its most recent software update for its cars. The driving mode tones down acceleration to make for "smoother driving and a gentler ride for passengers".
While available on all Model S and Model X cars, Tesla's Chill Mode update will be particularly welcome to owners of the Model S 100D, whose Ludicrous Mode is just that, with 0-62mph taking 2.5 seconds and 603bhp on tap.
Tesla's latest over-the-air update also includes an 'Easy Entry' system, whereby the car can move the driver's seat and steering wheel to the best positions for easy entry and exit. A memory function ensures that both seat and wheel will return to the driver's selected positions when the brake is pressed.
The Easy Entry update was promised earlier this year by Tesla CEO Elon Musk when he responded to a tweet from an owner who requested improved access.
The news comes as Tesla prepares to unveil an all-electric heavy goods vehicle on November 16. Darkened teaser pictures show the new articulated truck to be very curvaceous, but details are otherwise vague. After speaking with a source close to Tesla, Reuters reported that the new HGV could have an effective range of 200-300 miles.
Meanwhile, Tesla is also preparing to launch its entry-level Model 3 saloon, which has suffered production issues – the car isn't expected to reach the UK market until late 2018 or early 2019.