Owner upset at string of errors with new Skoda Superb
Finance mix-up, sat-nav glitch and colour confusion leave bad taste from Skoda experience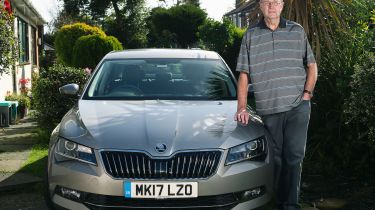 New cars sometimes come with faults, and while some owners suffer unexplained rattles, Colin Ford of Ashton-in-Makerfield, Greater Manchester, got in touch after experiencing unusual issues with his new Skoda Superb.
Colin told us: "In March I took delivery after trading in my old Superb. But then I began to receive letters from Skoda Finance saying I had defaulted on payments with my previous car."
It turned out Colin's dealer, Lightcliffe Skoda Warrington in Cheshire, hadn't informed the credit company of the swap in time. Colin had to phone up his dealer and Skoda Finance to correct the mistake.
"Eventually I was told that the payments had been corrected and my credit file no longer had markers on it," Colin added. "After this, I was told Lightcliffe would provide a free service as a goodwill gesture, but this never happened."
In July, Colin was about to head to Ireland when he discovered the maps on board the sat-nav didn't have any postcodes for the country. Keen to get an update, he was met with difficulty from his dealer. "I phoned up Lightcliffe, but it said it couldn't help with the update," Colin told us.
Then there was the shade of his new hatchback. "I originally ordered the car in Quartz Grey, but then changed my mind and asked the dealer to change the colour to match the old Superb I was trading in." Colin said he'd previously been told by the dealer his old model was finished in Cappucino Beige; while his new one came in the same shade, it didn't look similar to the old one.
Colin told us: "The car is actually listed as Beige, so I got in touch with Lightcliffe about this, but it said I got what I had ordered."
We spoke to Skoda UK and a spokesman told us that Colin's old model was finished in Amethyst Purple. He said that colour is no longer available with the new Superb, so the car Colin ordered was supplied with a colour most similar to this, Cappucino Beige.
The spokesman added: "Mr Ford has accepted our goodwill gesture for his next service, and an update to his sat-nav system, carried out at no cost to himself."