Faster Porsche 911 GT3 RS to be revealed at Geneva
Porsche pulls out all the stops for Geneva with an updated 513bhp 911 GT3 RS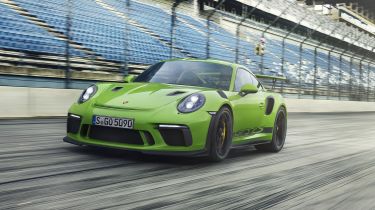 Porsche will unveil the fastest version yet of its track-ready 911 GT3 RS at the Geneva Motor Show in March.
As if to remind the world that it hasn't lost sight of the sports cars with which it made its name, Porsche has ensured that its most famous model still has its focus fixed firmly on speed and excitement, despite the advent of low-emissions plug-in hybrid models such as the Panamera E-Hybrid hatchback.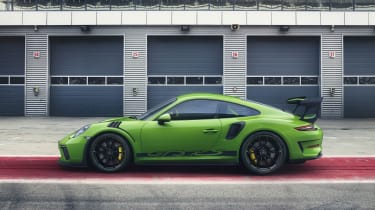 The latest GT3 RS has received the same minor visual tweaks as other 911s, but boasts a reshaped front bumper designed with aerodynamics and light weight in mind. You'll also notice louvres in the front bootlid, placed to extract air after it cools the massive front brakes. There's a taller rear spoiler than before, too – borrowed from the exotic 911 GT2 RS.
Technical tweaks include a special, ultra-light set of forged alloy wheels – saving 100kg compared to those of the outgoing car. Aerodynamic drag is reduced overall, even though downforce – the invisible force that pushes a car down on the road at high speeds – is increased by 8%, thanks largely to a cleverly designed rear diffuser.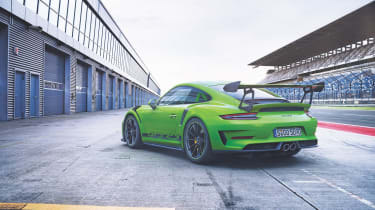 There's more smart engineering under the surface, with a titanium exhaust and redesigned air intake that helps the 4.0-litre flat-six engine produce a staggering 513bhp without resorting to response-sapping turbochargers. The double-clutch PDK gearbox has been tweaked for faster gearchanges, too, and Porsche claims a 0-62mph time of just 3.2 seconds. That's a tenth faster than before, although 2mph has been sacrificed from the car's top speed, which is now 'just' 194mph.
Porsche promises a more exciting drive from the GT3 than before and says that the car's engine management system is new, with even more immediate response from the already sharp accelerator pedal. Agility on road and track should benefit from an updated suspension system influenced by that in the 911 GT2 RS, as well as adjustments to the rear-wheel-steering system.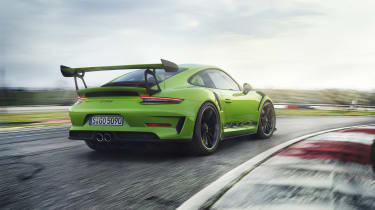 Internal changes add to the GT3's purposeful feel. Weight-saving measures include thinner window glass, the removal of some sound deadening, as well as the provision of door storage nets in place of bins. The bucket seats are formed of strong, light carbon-fibre, too. Those determined to make the very most of the GT3's performance can opt for a roll cage, manual fire extinguisher system and six-point race harnesses. The 'Weissach Pack', currently offered on the GT2 RS, will become available on the GT3, too. It pares even more from the 911's weight and offers even racier paint and styling options.
If you've got at least £141,346 to spare, you can place your GT3 RS order now. Customer deliveries are expected to begin in early summer.