New Porsche 911: What can we expect?
Hybrid technology possible for upcoming '992' generation of iconic Porsche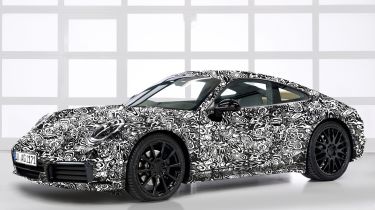 The sports-car world is now more competitive than ever before and even a car as iconic as the Porsche 911 needs to keep up with its rivals, so a new model will be with us soon. And the brand has now dropped its strongest hint yet that the next-generation 911 (codenamed '992') will be the most radical yet.
Having been in production almost continuously since 1964, the Porsche 911 has one of the most hallowed nameplates of any sports car. It's evolved gradually over its 54 years on the road, subtly progressing to reflect movements in technology and legislation, but the underlying concept has remained true to the original.
So what changes can we expect when the 992 model does finally arrive? August Achleitner is the director of the 911 model line and there are certain constants that he's reluctant to see changed. When it comes to design and engineering, these include the 911's driving position, engine layout, location and sound, as well as the amount of interior space.
Perhaps even more important, though, is how the 911 behaves when driven hard. Achleitner cites the steering and braking response, the suspension feel and how the accelerator responds as being central to the 911 driving experience – and holds that they should all be protected from reckless tinkering– but this doesn't mean no improvements can be made.
Achleitner says: "Even where the public might be expecting a bigger 'wow factor,' in the long run a certain aesthetic reserve pays dividends." Although he was speaking specifically about the 911's electronic influences, his words equally address why Porsche has taken very few risks when it comes to changing the overall look of the 911, inside or out. The 'fried egg' headlamps of 1998's 996 generation became a point of contention after the 911's styling strayed into unfamiliar territory. It seems unlikely that Porsche will take such a risk again.
New Porsche 911 design and technology
We can expect to see the next 911 retain the same outline as today's car, with reclined, oval headlamps, a curved window line, flared wheelarches and a tapering rear end horizontally sliced by thin rear lamp clusters. The proportions might change slightly to accommodate space-hungry engineering changes and fine detailing is likely to be altered, too. But the 992 will doubtless be very recognisably a Porsche 911.
Achleitner makes it clear that Porsche won't ignore trends that gain traction and turn into customer expectations. The 996 was the first 911 to offer sat nav and it did so purely to address a requirement that had surfaced around the time of its launch. Today, though, drivers expect to interact with their car, and the 992 is likely to provide a far more sophisticated digital interface than models that have gone before.
Nothing has been announced to outline how this is to be achieved, but it's likely that high-resolution, configurable touchscreens will be offered – potentially adopting technologies such as haptic feedback and gesture recognition for ease of use. As the 911 now faces a wider field of rivals than ever before, Porsche won't want to ignore the technology that many of these cars can provide.
Computer interaction won't be allowed to overpower the 911's core appeal, though – Achleitner insists that its "driver's car" reputation will remain untarnished, that technology won't be allowed to take the upper hand, and that while adaptive cruise control and lane-keeping assist have a definite place in a sports car designed for everyday use, they won't dominate the driving experience. "Those are convenient and useful things. But the customer has to make the choice to use them and, above all, be able to switch them off when they're not desired", he said.
Technology might well be used to enrich the driving experience, and to make it safer, but it seems Achleitner has ruled autonomy out until it's no longer avoidable. He said: "The 911 will be one of the last cars to drive autonomously."
Engines
Despite its apparent air of caution, Porsche admits that its historical fear of messing with the 911 formula has sometimes proven unfounded. When air-cooled engines were phased out in 1998, after the initial hype and drama, sales continued to be healthy. The same happened in 2015 when turbocharged engines became the norm – sales remained buoyant despite the change.
So, although a fundamental rethink of the 911 is unlikely, Porsche might well embrace technology that's proven popular elsewhere. Honda, McLaren and Ferrari have all used electric hybrid technology in their sportiest cars, and Porsche employs it elsewhere in its range with great success – so why not roll it out in the 911?
"Two years ago I'd have said no way. Today I wouldn't categorically rule it out," Achleitner says, having experienced the performance of Porsche's Mission E electric sports car, as well as Le Mans racing cars with hybrid technology. While Porsche is unwilling to let electric power replace the much-loved character of the 911's flat-six petrol engine, it might be allowed to augment it. And while performance boosts would be the primary objective, environmental benefits are a happy consequence, too.
A new 911 is a long way off yet and Porsche maintains a secretive air when discussing specifics. It's clear, though, that the German marque understands what enthusiasts expect of its flagship model. Achleitner promises "The new 911 will be the best 911 of all time".