More power for updated Mazda MX-5
Radical updates make the Mazda MX-5 more powerful than the Abarth 124 Spider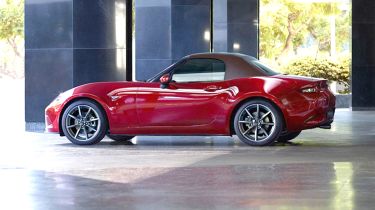 It's good news for fans of the Mazda MX-5 convertible and RF folding hard-top, because the Japanese manufacturer has announced impressive engine upgrades for the latest version, with more power and increased revs for a more thrilling driving experience. The updated MX-5 goes on sale in August.
Unlike most mid-life refreshes, which are largely cosmetic, Mazda has left the car's exterior design largely untouched after minor updates last year. Instead, its engineers have been let loose, upgrading the SKYACTIV-G 2.0-litre petrol engine from 158 to 182bhp – a 15% gain. Not only that, but the redline for maximum revs has moved from 6,800 to 7,500rpm, which should make it even more exciting to drive. It's expected to sound pretty good, too, thanks to acoustic tuning, but we'll have to wait until we drive it to find out for sure.
Carbuyer's best sports cars on sale now
The changes will make the MX-5 more powerful than the turbocharged Abarth 124 Spider, which shares the Mazda's underpinnings, but has a 1.4-litre turbocharged petrol engine with 168bhp and unique styling.
According to Mazda, the 1.5-litre petrol also has "improved combustion and greater torque", but it hasn't released exact power figures for the smaller engine yet. If it's a similar increase, power could shoot up from 129 to 148bhp – but the gain could be more conservative to prioritise fuel efficiency. Not only will both engines offer performance gains, they'll also comply with the latest European emissions legislation.
Customers will also be able to choose from some new options, including a brown fabric for the soft-top and darker paint finishes for the 16 and 17-inch alloy wheels. Drivers should also be able to find a better seating position thanks to reach adjustment for the steering column – a feature that was a disappointing omission at launch.
Safety gets an upgrade, too, thanks to Mazda's new 'i-Activesense' suite of features, which can brake autonomously, flag up road signs and ensure the driver is paying attention. A reversing camera is also on its way, along with a system to prevent bumps when reversing.