Audi Sport Performance Parts R8 launched in UK
Audi announces motorsport-inspired limited-edition Audi R8 supercar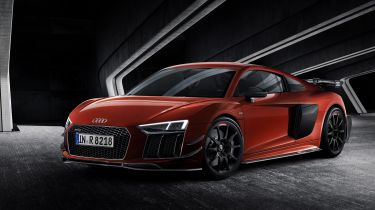 Audi has launched the Audi Sport Performance Parts R8, the most extreme version of its supercar yet. The car is available to order now for £176,560.
The limited-edition model, built by Audi's motorsport division, puts the Lamborghini Huracan squarely in its sights. It uses the same 602bhp V10 petrol engine as the Huracan LP610-4 but Audi insists that there's more to the ASPP R8 than brute power alone, describing it as the "ultimate Audi racing car for the road".
The best supercars money can buy
Most striking is an aerodynamic kit made from carbon-fibre reinforced plastic (CFRP), which aids grip and agility. The rear of the car is dominated by a large fixed rear wing and a diffuser with red details which, together with airflow-deflecting vanes behind the rear wheel arches, are said to generate 250kg of downforce at 205mph, which is 100kg more than the standard R8. At a more modest 93mph, the 52kg of downforce created is double that of the regular car.
There's no doubting the extra visual impact of the additional parts either, particularly at the front of the car, where more pronounced air inlets, a deeper front splitter and aerodynamic 'canards' make for an overall look that's far more aggressive than any other Audi R8.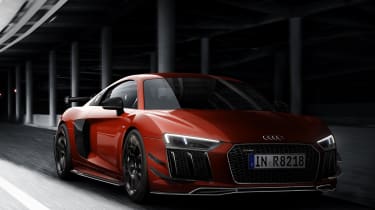 Lightweight black 20-inch alloy wheels save a total of 8kg, while huge Michelin Pilot Sport Cup tyres should prove their worth on a track day, as should ceramic brakes with lightweight titanium backing plates. An adjustable coilover suspension system means this most focused of R8s shouldn't be impossible to live with away from the circuit, either, and MMI Navigation, Audi Connect online services and soft Nappa leather upholstery bring some creature comforts.
If this blend of motorsport-inspired engineering and executive luxury appeals to you, you'll need to act quickly; only 44 Audi Sports Performance Parts R8s are being built, and just five right-hand drive cars will be offered to UK customers. Priced at £176,560, it's available to order now.