Land Rover launches optional Pet Packs
New option packs for every Land Rover to please people and pets alike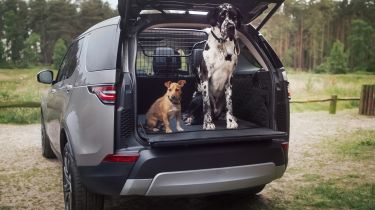 Land Rover has introduced a range of option packs to make life easier for animal lovers and their pets. The 'Pet Packs' are available across the Land Rover line-up and cost from £360.
Responding to its findings that around half of Land Rover owners are also dog owners, the company has released a range of 'Pet Packs' that aim to increase comfort for animals traveling on board, while also making it more convenient to carry four-legged friends safely.
Best dog-friendly cars you can buy today
The packs are each designed around a group of specially chosen accessories to meet specific pet-carrying requirements. Example features include a load-space liner finished in a high-quality quilted material, an access ramp, portable shower and spill-resistant water bowl, as well as a foldable pet carrier – presumably not suggesting that anybody folds their pets.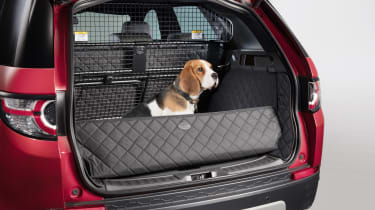 Every model in the Land Rover range offers a selection of Pet Packs, with the features of each pack also being available separately if preferred. The most expensive pack – the pet care and access pack – costs £887. It includes the aforementioned quilted load-space liner with a full-height luggage partition, as well as a pet access ramp to help less mobile pets take their place in the car in comfort. It also includes the portable shower, which provides a five-minute shower with its 6.5 litres of water – enough to clear the worst of the mud after an energetic walk.
Less expensive, but no less practical, is the pet transportation pack at £360. It includes a rubber load-space mat and spill-resistant water bowl, as well as a foldable pet carrier. The £482 pet load space protection pack offers a compromise between the two packs, including the quilted liner and luggage partition, but omitting the ramp and shower in favour of a spill-resistant bowl.
For more advice on choosing the right pack for your pet, visit your local Land Rover dealership, where the pet packs are available now.