Jaguar F-Type R review
Muscular F-Type R offers supercar performance in a compact package
The Jaguar F-Type, available as a coupe or convertible, is arguably one of the most distinctive sports cars you can buy today.
It's the latest in a long line of driver-focused Jaguars that started with the legendary E-Type of 1961, which inspired the F-Type's name. The latest model fills the shoes of the previous Jaguar XK8, and is offered with a far broader range of engines than its predecessor. There are 2.0-litre four-cylinders for entry-level models, as well as a 3.0-litre V6 and the fire-breathing 5.0-litre V8 in the F-Type R at the top of the range – the latter a capable rival for the Porsche 911 Carrera T.
Carbuyer's best sports cars you can buy today – at any price
The 542bhp engine rather dominates the F-Type R experience, but not until you've taken a seat and pressed the start button. Few people would be able to tell what's under the bonnet of the R from the outside; there are only detail exterior differences between it and any other F-Type. Things change, though, when the R's mighty engine roars into life, after which a 3.9-second blip of the accelerator pedal catapults you to 62mph.
Unleashed, the F-Type R will continue to accelerate until it reaches 186mph, but there's more than just searing straight-line speed on offer. Although some may find the steering too heavy, it couldn't be more precise and has enough feel to tell you exactly how well the front tyres are gripping the road. The standard four-wheel-drive system gives you a tremendous feeling of security, too, and an almost total absence of body lean leaves you in no doubt that you'll make it through a corner, seemingly irrespective of speed.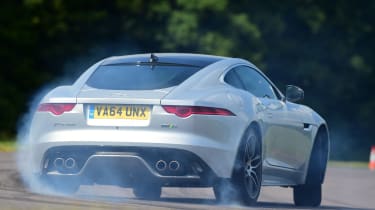 All that power means you have to exercise a certain amount of self-restraint to avoid overdoing it, though. Apply more power mid-corner and it's easy to set the rear wheels spinning. This could result in a graceful slide in the hands of an experienced driver, or a dangerous spin if you're not wary.
Realistically, there are precious few stretches of UK road where you can properly exploit all the F-Type R's astonishing power, so its true potential is best realised by taking it to an organised trackday event. And then, after revelling into the Jaguar's unbridled speed, you can take a relaxed, steady drive home with the V8's unmistakeable muscle-car engine noise as a soundtrack.
Verdict 4.5/5
Objectively, it's hard to fault the Jaguar F-Type R. Its £92,000 price tag makes it pricier than a Porsche 911 Carrera T, but it's also a little faster than the German car. However, intoxicating as 542bhp might be, it's debatable as to whether the F-Type R is more fun than the the 375bhp V6-engined model, which costs £20,000 less. And when you take Britain's claustrophobic, traffic-packed roads into account, the £52,000 296bhp 2.0-litre version offers as much performance as most drivers are able to make use of. For some, though, the R's V8 soundtrack will be worth the extra £40,000 on its own.