410bhp Volkswagen Touareg V8 TDI will debut at Geneva
VW set to unveil the most powerful model in its range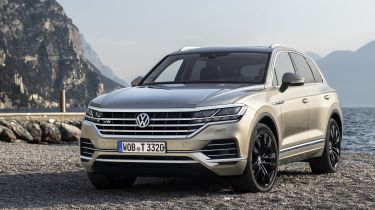 The new Volkswagen Touareg V8 TDI will make its debut at the upcoming Geneva Motor Show. It becomes the most powerful car made by VW and will rival the upcoming Audi SQ5 TDI and the current Volvo XC90 T8. The Touareg V8 will be available to buy in May, with pricing expected to be confirmed in the coming months.
Featuring an all-new turbocharged 4.0-litre V8 diesel engine, the range-topping Touareg produces 410bhp and 900Nm of torque. It uses an automatic gearbox and all-wheel-drive, with Volkswagen claiming a 0-62mph sprint time of 4.9 seconds and a top speed of 155mph.
Best 4x4s and SUVs you can buy in 2019
Inside, the VW Touareg V8 TDI comes with tan leather upholstery, wood and aluminium trim, stainless steel pedals, an electronically operated tailgate and Volkswagen's 'Light & Sight' package, which includes automatic headlights and automatically dimming exterior mirrors.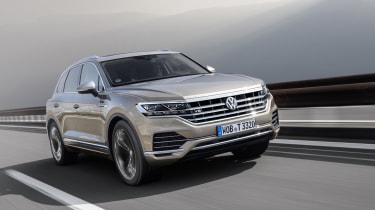 As the flagship model in the range, the Touareg V8 TDI gets a few upgrades over the V6 models, with both air suspension and 19-inch wheels fitted as standard.
Also included is an array of the latest driver assistance tech, including Front Cross Traffic Assist (can detect road hazards and apply automatic emergency braking when needed), Traffic Jam and Roadwork Lane Assist (a semi-automated driving mode that can drive and brake at speeds of up to 40mph), Night Vision (capable of detecting both pedestrians and animals in darkness using thermal imaging) and four-wheel steering and active anti-roll bars, both of which aid handling and comfort.
Want to know more? Check out our review of the Volkswagen Touareg, or see how it compares to its rivals on Carbuyer's favourite large SUVs page.