BMW X3 xDrive30e joins new BMW hybrid range
The first hybrid BMW X3 offers 34 miles of electric range and starts at £47,565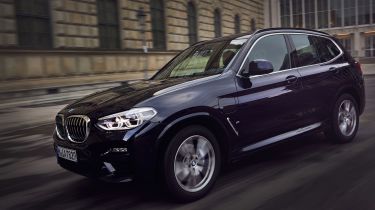 BMW has revealed more details about its newest hybrid model, the BMW X3 xDrive30e. The first X3 to incorporate electric power can travel up to 34 miles on its battery alone, and it officially returns 128.4mpg. You can order the X3 plug-in hybrid now, with first deliveries likely to start in early 2020.
The BMW X3 xDrive30e uses a twin-turbocharged 2.0-litre petrol engine and an electric motor for a power output of 249bhp. It's the same setup as in the BMW 330e, and even comes with an 'XtraBoost' function that liberates another 40bhp when the battery has sufficient charge.
Best hybrid cars to buy this year
Power is sent through an eight-speed automatic gearbox and BMW's xDrive all-wheel-drive system. Zero-to-62mph is reached in 6.1 seconds and the top speed is 130mph. Those statistics are similar to the diesel xDrive30d, and equivalent hybrid X3 models are only £135 more expensive. A CO2 output of 49g/km means it should find favour with company-car drivers, too.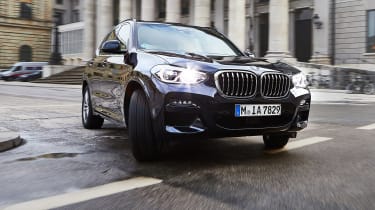 BMW has stashed the battery pack under the rear seats, to prevent too much of the boot space being taken up. The hybrid's 450-litre boot is about 100 litres down on the petrol and diesel models, but it's still a usable size.
As per the standard X3, the plug-in hybrid is available in SE, xLine and M Sport trim levels. All versions allow you to preheat or cool the interior before you get in.
Another plug-in hybrid SUV, the BMW X5 xDrive45e, has been launched at the same time. A large 24kWh battery (double the size of the X3's) means the X5 can travel an impressive 54 miles on electric power alone. With a 3.0-litre petrol engine and a 111bhp electric motor, the X5 generates as much as 389bhp and 0-62mph takes 5.6 seconds. Officially, it returns up to 235.4mpg and emits 28g/km of CO2.
Meanwhile, the BMW 530e and BMW 225xe Active Tourer hybrids have bigger batteries, and can now manage up to 35 and 31 miles on electric power respectively.
With the launch of the two plug-in hybrid SUVs, BMW now has six PHEV models in its line-up.
If you want to know more, read our full reviews of the BMW 530e iPerformance and BMW 745e hybrid saloons.