All-new engines for Nissan X-Trail announced
Cleaner 1.3-litre petrol and 1.7-litre diesel engines for the X-Trail, Nissan's biggest SUV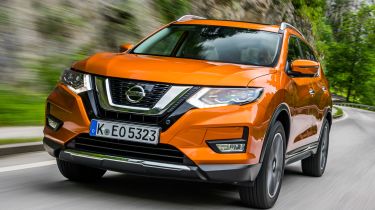 Nissan has announced the addition of two new engines to the Nissan X-Trail range. The all-new 1.3-litre petrol engine and 1.7-litre diesel units replace the existing 1.6-litre petrol and 1.6-litre diesel respectively, offering reduced CO2 emissions and improved fuel economy.
The new four-cylinder 1.3-litre petrol engine produces 158bhp and returns up to 34.9mpg in five-seat form with a DCT automatic gearbox. CO2 emissions stand at 145g/km but can rise to 154g/km depending on the exact model you choose and the size of the car's wheels.
The new four-cylinder 1.7-litre diesel produces 148bhp and is available with a six-speed manual with two or four-wheel drive. In five-seat, two-wheel-drive form, it returns up to 43.5mpg, with CO2 emissions of 137g/km rising to 143g/km, depending on the version you choose.
If you opt for the new diesel engine and four-wheel drive, economy slips slightly to 42.4mpg and CO2 emissions increase to at least 151g/km.
It's difficult to offer direct economy comparisons between the new engines and the ones they replace because the new engines were tested under the latest WLTP testing regime, which gives more realistic figures than the old NEDC one.
However, the new engines have been introduced because they are cleaner and more efficient; both meet the 'Euro6d-Temp' emissions standard, which means that company-car buyers won't incur the 4% BiK diesel surcharge when they buy an X-Trail with the new diesel engine.
The X-Trail is available to order with its new engines now. The 1.3-litre petrol model costs £26,950, while the 1.7-litre diesel is £25,795 in two-wheel drive form and £28,995 with four-wheel drive.
If you're considering a Nissan X-Trail because you need a car with seven seats, have a look at our list of the best seven-seaters currently on sale.