211mph Aston Martin DBS Superleggera Volante revealed
Convertible version of Aston Martin DBS Superleggera has the same 715bhp V12
The new Aston Martin DBS Superleggera Volante has officially broken cover, with a top speed of 211mph making it the fastest convertible Aston has ever produced. Prices start at £247,500 - a hefty premium over the £175,000 asked for the Bentley Continental GT Convertible.
Based on the DBS Superleggera coupe, the Volante swaps the fixed roof for an eight-layer folding fabric version. Aston Martin claims the roof can be lowered in 14 seconds and raised in 16 seconds. It can be operated from inside the car or from outside using the key fob.
• Best supercars to buy in 2019
The Volante has the same 715bhp 5.2-litre twin-turbo V12 petrol engine found in the coupe, with an eight-speed ZF automatic gearbox sending power to the rear wheels.
The Volante's chassis has received additional strengthening to compensate for the loss of the coupe's fixed metal roof. Despite the added weight, the Volante sprints from 0-62mph in 3.6 seconds, 0.2 seconds slower than the coupe, while the top speed is identical at 211mph.
The DBS Superleggera Volante also boasts similar aerodynamic efficiency to the coupe, despite the revised design and fabric roof. At top speed, the Volante generates 177kg of downforce - just 3kg less than the coupe.
Inside, the DBS Superleggera Volante features the same interior spec as the coupe, plus a choice of eight different colours for the fabric roof and six different colour options for the interior headlining.
The first cars will be delivered to customers later this year.
Do you want to know more about the Aston Martin DBS Superleggera coupe? Read our in-depth review.
Top 10 best hybrid cars 2021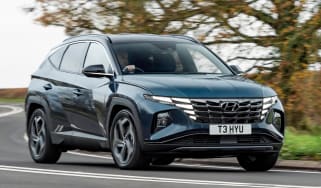 Top 10 best hybrid cars 2021
Genesis GV80 SUV review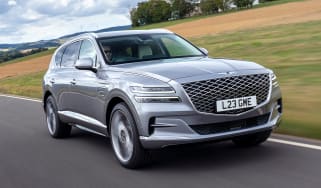 What is AdBlue?