2019 Nissan Juke prototype review
We get behind the wheel of the all-new Nissan Juke to see how the small SUV is shaping up
The new Nissan Juke is an important car for Nissan because the outgoing version has been such a huge success. The original Juke is largely responsible for the sea of small crossovers on sale, as it was such a popular concept that many manufacturers were compelled to create their own version of it.
The outgoing Juke - now nine years old - has naturally come to feel outdated when compared with newer rivals, so a new model should reinvigorate Juke sales. Bringing the Juke formula up to date without sacrificing its quirkiness will be the key, and Nissan will modernise the car with a more upmarket and spacious interior, improved engines and a better driving experience.
Europe is a key market for the Juke, so Nissan's engineers have spent plenty of time around the continent in an attempt to make the car suited to European tastes. Much of the suspension tuning took place in the UK, and the car's dynamics were honed in Germany. Nissan's test facility in Japan now includes roundabouts to more accurately represent European roads; there are very few roundabouts in Japan.
We had a quick drive around the Millbrook test bowl in a development model that's close to being the finished UK spec. We'll wait until we drive it on public roads before giving a full verdict but our initial impressions were that new Juke represents a huge jump forward from the current model in dynamic terms.
Besides a slightly firm ride and steering that doesn't have much feel (a trait of most small SUVs), there's much to like about the way the new Juke drives. It feels more settled and planted than the version that's about to be withdrawn, so you have more confidence in faster corners. Nissan's engineers have reportedly put a lot of work into how the car reacts to potholes, bumps and sudden direction changes, and that seems to have paid off.
The prototype car's 115bhp 1.0-litre three-cylinder petrol engine is shared with the Nissan Micra. It's a little buzzy at idle (something set to be looked at before the car goes on sale), but it offers healthy performance and should balance that with fuel economy of around 45mpg. A six-speed manual gearbox will be standard, with a seven-speed dual-clutch automatic gearbox available as an option. The latter replaces the rather poor CVT automatic gearbox offered in the outgoing Juke.
The forthcoming Juke sits on a whole new platform, which is shared with the new Renault Clio and Captur. Called CMF-B, it's 23kg lighter than the current car's underpinnings, and is stiffer thanks to an increase in the amount of steel used in its construction. Benefits of the new platform are better crash performance (Nissan is confident of a five-star Euro NCAP safety rating) and the option to fit hybrid and electric powertrains. While not available from launch, it's expected that a Juke hybrid will join the line-up at some point. The new Juke is 35mm wider and 75mm longer, with a much longer wheelbase, so there's more space for passengers.
Its driving appeal is also helped by a better driving position, with more adjustment to get the steering wheel and seat where you want them. There's a shorter throw on the gearbox and a new electronic handbrake.
We can't show you the interior until Nissan reveals the car on Tuesday 3 September but it'll be completely unrecognisable from the dated design of the outgoing car. A new eight-inch 'floating' infotainment touchscreen is the main part of a plusher dashboard, a digital instrument cluster is available, and buyers can choose on-board Wi-Fi, over-the-air updates and Nissan's ProPilot driver assistance pack, which brings some self-driving ability. You'll be able to personalise different aspects of the interior with colour schemes and accents.
Boot space has improved to 422 litres, a handy 42 litres more than the Volkswagen Golf. Plus, the opening is now wider as the brake light clusters have become part of the tailgate.
Verdict
We need to try the new Juke on UK roads before we give a full verdict and compare it with rivals but our test drive was certainly promising. The prototype was good to drive, representing a massive step forward compared with the outgoing version, and the car is now easier to live with, without straying too far from the style and character of the outgoing model.
Read more information about the new Nissan Juke here, or see where the current model features on our list of best-value nearly-new cars to buy this year.
Top 10 best small SUVs 2022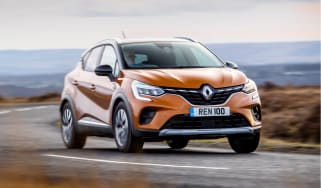 Top 10 best small SUVs 2022
New Nissan Juke Hybrid priced from £27,250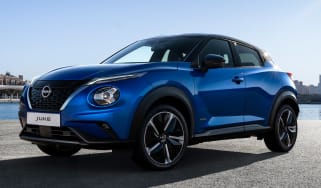 New Nissan Juke Hybrid priced from £27,250