New Peugeot 3008 plug-in hybrid arrives
The Peugeot 3008 GT Hybrid4 has a 296bhp petrol electric powertrain offering up to 36 miles of electric driving range
Full specifications for the new four-wheel-drive Peugeot 3008 GT Hybrid4 plug-in hybrid have been announced. The new range-topping model will be available to order later this year, with first deliveries expected in early 2020. A price has yet to be confirmed but we expect the car to cost around £45,000.
The new 3008 Hybrid4 PHEV combines a 1.6-litre four-cylinder petrol engine with a pair of electric motors and a 13.2kWh battery pack. The front wheels are powered by the petrol engine, with an electric motor mounted to both the front and rear axles to give the car four-wheel-drive.
This powertrain gives the range-topping 3008 a power output of 296bhp and a 0-62mph time of 5.9 seconds. It also makes it the greenest model in the range as well, with Peugeot claiming a pure-electric driving range of up to 36 miles, claimed fuel economy of 217.2mpg and a low CO2 emissions figure of 29g/km.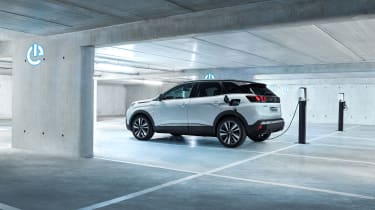 Peugeot claims that the 3008 PHEV can be fully charged from a 7.4kW wall charger in 1 hour and 45 minutes. The firm also says that the practicality of the 3008 has not been compromised by the hybrid setup, with interior and boot space remaining the same as the conventional petrol and diesel models.
Available exclusively in Peugeot's range-topping GT trim level, the 3008 Hybrid4 features an eight-inch infotainment system, a digital dial cluster and adaptive cruise control with lane-keeping assist. The seats are trimmed in leather and Alcantara, with real oak accents across the dashboard and door trims.
The 3008 Hybrid4 is the first of four new plug-in hybrid Peugeot models set to be launched, with a less powerful, 222bhp front-wheel-drive variant arriving in late 2020. Alongside this, PHEV versions of both the 508 Fastback and 508 SW estate will be launched next year.
Want to know more about the 3008 model range? Why not read our review, or check out our reviews of the 508 Fastback hatchback and the 508 SW estate.