New 2023 Peugeot 5008 SUV to get electric and hybrid power
Our preview image shows how the new seven-seat 5008 might look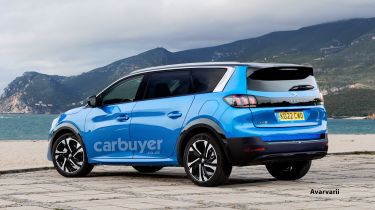 5008 to focus on practicality
350-mile electric range expected
Electric and hybrid powertrains to be offered
The Peugeot 5008 will undergo a thorough overhaul when the next-generation model arrives in 2023. Practicality will be improved, and a range of electric powertrains will feature in the line-up. When it goes on sale, the new 5008 will continue to rival seven-seat SUVs such as the Skoda Kodiaq, Nissan X-Trail and SEAT Tarraco.
It'll be underpinned by the PSA Group's eVMP platform, which will be used for all of Peugeot, Citroen, DS and Vauxhall's forthcoming large models. This platform can support batteries up to 100kWh in capacity, plus front- and four-wheel-drive layouts.
2022 Peugeot 3008 to get coupe styling
We expect the entry-level model to use PSA's existing 134bhp electric powertrain setup, which also powers the Peugeot e-208, DS 3 Crossback E-Tense and the Vauxhall Corsa-e. The larger dimensions of the 5008 will be able to accommodate a bigger battery, meaning a range of 200 miles should be achievable. A range of more powerful electric motors will also be available, with the most potent offering around 335bhp.
Upgrading to a more expensive powertrain and a larger battery should mean a range of around 350 miles. The upcoming Peugeot 3008 replacement is likely to manage around 400 miles on a charge, but the 5008 is heavier, with it's larger dimensions making it less efficient.
Plug-in hybrid and mild-hybrid powertrains will make up the rest of the range. The latest Citroen C4 is expected to retain several of the PSA group's conventional petrol and diesel engines for the near future, so the 5008 is likely to share the same engine line-up - albeit updated and with the aforementioned mild hybridisation.
Peugeot's customer analysis suggests the 5008 is a car primarily bought by families, while the 3008 'family' SUV is bought by couples with grown-up children or no children. The next-gen 5008 will focus more on practicality, and an upright rear end will give more room for those in the third seating row. It'll still look like an SUV, but perhaps boxier and not quite as sleek as the current car.
The company's now-former design boss, Gilles Vidal, spoke to our sister site Auto Express earlier this year, saying the customer analysis "may lead us for the next generation of 5008 to go even more square and find a way to make it sexy.
"When I say square in relation to the 5008, it shouldn't be a boring square. There's a place, for sure, to make it more practical and then generate a design that is still amazing but not through dynamism."
See where the current Peugeot 5008 features on our list of the best 7-seater cars and best large SUVs.