Citroen C1 deals: Car deal of the week
The Citroen C1 now costs from £6,995 thanks to a £1,100 discount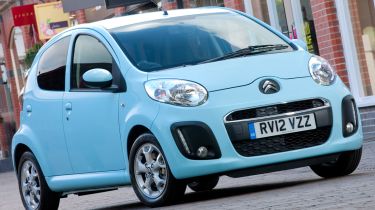 The Citroen C1 is now available with £1,100 off - meaning you can now get the efficient city car for just £6,995.
There have been a handful of car offers this week, and you can find them on our best new car deals page, but a new Citroen C1 for less than £7,000 was one of our favourites. Many of these offers tie in with the new 63-reg number plates that come in on 1 September, and the Citroen C1 is available to order now with the new registration plate.
The entry-level Citroen C1 is priced at £6,995 and comes with power steering, a CD player, aux-in and folding rear seats as standard. Features on the higher-spec models include air-con, remote central locking, iPod compatibility and 14-inch alloy wheels, as well as standard equipment like anti-lock ABS brakes and electronic traction control on all cars. Another plus is that the Citroen C1 is road-tax free for the first year.
Another benefit is that the Citroen C1 is a great first car for young drivers. It's a comfortable city car, with very low running costs and a cheap list price. Plus, it shares its engine with the Toyota Aygo, so it's reliable – and it comes with a comprehensive three-year warranty to put your mind at ease if you do run into any problems.
Thanks to light steering and a quick gearbox, it's nimble around town and combined with its excellent visibility it's easy to maneouvre and slot into parking spaces. Super soft suspension makes light work of bumps and potholes, too.
There are also lots of storage cubbies in the cabin, and the 139-litre boot increases to 751 litres with the back seats folded down. For small families there are ISOFIX child seat fixings, and there is a five-door version available for added practicality.
For more information on this deal visit the Citroen website, and for the full Citroen range visit the CarBuyer Citroen reviews page.