Entry-level Porsche Taycan model introduced
Cheapest Taycan has rear-wheel drive and starts at £70,690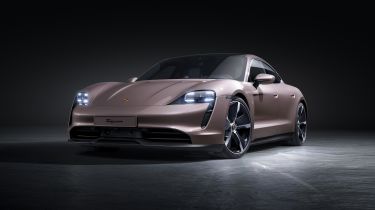 300-mile range and 0-62mph in 5.4 seconds
Brings Taycan's starting price down by around £14,000
On sale now
A new, entry-level version of the Porsche Taycan is now on sale. The unnamed spec slots into the range below the Taycan 4S, Turbo and Turbo S to become the most affordable model in the lineup.
A starting price of £70,690 means the new car is around £14,000 less than the 4S and almost half the price of the Turbo S flagship. You can think of it as a rival to the Tesla Model S Long Range Plus variant. First deliveries are scheduled for March.
Because the new Taycan is half the price of the Turbo S, you get half the performance; there's one electric motor on the rear axle (rather than one on each), and 0-62mph takes 5.4 seconds compared to the Turbo S' 2.8-second launch time. The base Taycan certainly won't feel slow, and we expect its power will be more usable on UK roads than that of the Turbo S.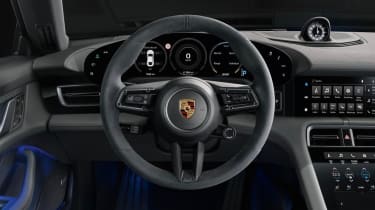 The car has 322bhp as standard but this rises to 402bhp with the temporary 'overboost' function engaged. That's with the 79.2kWh battery; spec the optional 92.4kWh battery and the electric motor produces 469bhp. The acceleration is the same for each battery but the bigger one offers a 300-mile range, compared to 268 miles for the smaller one.
You still get super-fast charging capability, so find a powerful enough public charger and you can top the battery up to 80% in 22 minutes. Plugging in for just five minutes will add around 60 miles of range. The least expensive Taycan also gets Porsche's Plug & Charge system, which allows you to store payment details in the car and automatically pay for the electricity you use at a charger, rather than having to input login and card details every time.
The new Taycan gets a set of steel springs rather than the air suspension in top models but the option to upgrade is offered. The alloy wheels and brakes are smaller too but from the outside there's very little to give away that it's the least expensive model.
It's the same inside, where the base Taycan still benefits from the impressive screens fitted to the existing models. You can specify leather-free upholstery and a huge number of options and finishes, while Porsche also allows you to subscribe to some features. Active lane-keeping assist and Porsche's InnoDrive system both cost £18 per month or are £759 outright.
Read our guide to the best electric cars on sale now.