Jaguar XF saloon (2007-2015)
"The Jaguar XF combines luxury, comfort and handling in an appealing executive car package."
Pros
Stylish looks
Good engine range
Fantastic mix of performance and comfort
Cons
No petrol model
Poor rear legroom
Rivals have more stylish interiors
It has four doors, but the Jaguar XF looks a lot like a coupe – a fact that has won it many admirers in a class populated by excellent but largely restrained-looking saloons such as the Audi A6, Mercedes E-Class and BMW 5 Series.
The car reviewed here is actually being replaced in the autumn of 2015, something Jaguar isn't being quiet about, since it's promoting the replacement car alongside the current one on its website. This means you should be able to negotiate a better deal on the current car, although it'll probably also be worth less than an equivalent new-generation model when you sell it.
Nevertheless, the current XF remains an excellent buy. Rear headroom is a little compromised by the swooping roofline, but otherwise the car is spacious and very good looking. For its tax advantages, as much as for its fuel economy, diesel is the engine of choice in this class. Fortunately, the XF spoils buyers with a choice of two 2.2-litre diesels and a more powerful 3.0-litre six-cylinder one. For its blend of lively performance, refinement and good fuel economy, the more powerful of the two 2.2-litres gets our vote.
The one petrol engine – a 5.0-litre V8 – is reserved for the sporty XFR. Its supercar-baiting performance and high fuel consumption rule it out for the majority of budget-conscious family buyers and company-car drivers.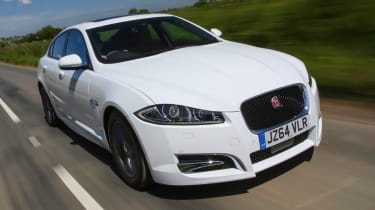 All versions of the XF have lots of grip, corner with little body lean and ride comfortably. In addition, all are fitted with Jaguar's smooth eight-speed automatic gearbox. There's no manual option, but automatic is the preferred transmission in this class anyway. The gear selector wheel also rises from the centre console when you start the engine.
There are five trim levels: Luxury, R-Sport, R-Sport Black (only with the more powerful 2.4-litre diesel), Portfolio and Diesel S Portfolio (reserved for the 3.0-litre model). They're all well equipped and good value for money but Luxury, the most affordable trim, makes the strongest case. Items such as climate and cruise control, xenon headlights, a touchscreen infotainment system and a rear-view camera all come as standard.
Jaguar scores well for customer satisfaction, but the XF has some ground to make up in terms of reliability. That said, the car feels and looks the equal of anything in its class. Despite have a wealth of standard safety equipment, it was awarded only four out of five crash-safety stars by Euro NCAP due to its below-par level of child occupant protection.